Why Study Chemistry at King's?
King's four-year Chemistry program is nationally accredited by the Chemical Institute of Canada and, after work experience, can lead to designation in Alberta as a Professional Chemist (P.Chem.).

Learn and work alongside faculty who are committed to your success. Many King's faculty members are award-winning researchers and contributors in the natural sciences community who are both passionate about teaching and engaged in research projects with undergraduate students. The chemistry department at King's believes science is a human enterprise, and scientific processes occur within historical, social, and religious contexts.

At King's, you will explore chemical toxicology, anthropogenic sources of environmental pollutants, molecular symmetry and orbit theory, and solid-phase synthesis. From the biochemical to the industrial, field trips to experiments in the lab, you'll synthesize, bond, and create from the building blocks of God's design.
Graduates of King's Chemistry program leave with strong laboratory experience, mathematical skills, the ability to work independently, excellent oral and written communication skills, and problem-solving abilities. Each of these skills are desired qualifications for Canadian chemists, as indicated by Human Resources and Development Canada.
I explore the intricacies of God's handiwork by studying the properties of matter and its transformations. The small class sizes and fully equipped laboratories at King's increased my understanding of chemistry. The professors are knowledgeable and personable and helped me approach the field from a Christian worldview.

Sam Zondervan, B.Sc. - Chemistry
King's chemistry professors and staff are committed to:
Cultivating a deeper understanding of the molecular so students can bring healing to the world.
Providing hands-on experience with laboratory tools and computer software common to practicing chemists, biologists, and environmental scientists.
Providing an experiential, research filled curriculum.
Guiding students to personal success through top-tier teaching, mentorship, and scholarship. 
Giving students the ability to describe, visualize, interact with, and appreciate the molecular world.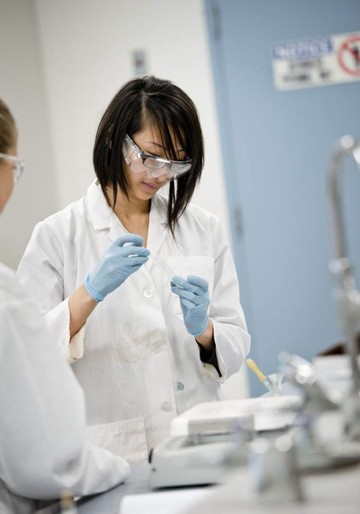 Chemistry from a Christian perspective
It's not just about the physical world at King's. Your chemistry professors are passionate about teaching, research, and sharing their joy of creation. They craft a teaching environment where you can focus on who you are as a chemist and a child of God.

As you visualize and interact with the molecular world, your professors want to bring you into a fuller appreciation of how subatomic particles reveal the fingerprints of the Creator.