Choosing King's for your English Program
English students approach their study with two main goals. First, to appreciate and understand what makes a written text "literary" and why readers return to great literary works to provide pleasure and insight into the human condition. Second, you'll learn to analyze and communicate effectively.
The study of literature is largely the study of story, figures of speech, and forms of language that are brilliantly and extravagantly employed by poets, playwrights, and writers of fiction. These conventions also play a crucial role in other less obviously literary kinds of writing like history, philosophy and science. You'll learn to utilize the power of language to shape and illuminate--or when improperly used, to misshape and obscure.
King's English program gives you a comprehensive exposure to major works in the British and Canadian traditions and shows how these traditions intersect with other global literature. These provide a rigorous introduction to historic and contemporary literary theory.
King's English professors are committed to:
Putting teaching and student mentorship first.
Emphasizing the development of clear, correct writing skills so that you are equipped to make your voice heard.
Exploring some of history's greatest literary texts to discover meanings, emotions, and lessons about the human condition.
Ensuring small class sizes so that a seminar style of study is available for senior level courses.
Supporting students through individualized instruction.
Working with students to produce publications such as the student newspaper and creative arts publication.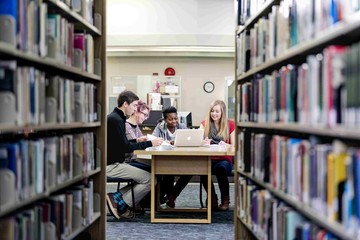 English from a Christian perspective
Your English professors will look at literature through the Christian perspective. English studies will explore how the Christian faith shapes an investigation of literature and the environment.

A particular point of study will be to provide students with the ability to understand how the Christian faith both expresses and challenges the important critical debates of the 20th and 21st century.