Back to Blog
Rooted in Place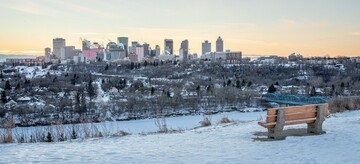 (Winter 2019)
What does it mean to be rooted in a place? Not simply existing within it, oblivious to where you are as you pass one generic shopping mall after another, but actively involved in getting to know and promoting the welfare of the city? 
Theologian Dr. Willie Jennings has said that "Christians are the most geographically oblivious people on the planet." But to be oblivious to place means we are also oblivious to our neighbours (both human, plant, and animal) and to the ways that place intersects in the story of faith. Even on the rare occasions when we do hear examples about virtue and care for place, they tend to be centred in rural locations. But what about those who make their home in cities? What does being rooted in place look like for them?
How can we begin to recover a theology of place? In this conference, we will explore many ways of doing that: getting to know our neighbours here on Treaty 6 land, becoming aware of how city politics work and where we can make our voices heard, exploring creative solutions to pressing issues in housing and economics, learning the ecological and social history of this place, and listening to the ways that area writers have described this land and its people. 
Whether you were born and raised in Edmonton, have lived here for a number of years, or just arrived here to study at university, this is your place. By understanding more about how this city works, you will have models to take with you to wherever you may live in the future to help you become an active and informed citizen who is rooted in place, caring for the people and land around you.
Keynote Speakers
Dr. Brian J. Walsh
Dr. Walsh is the pastor of the Wine Before Breakfast community and a Christian Reformed campus minister at the University of Toronto. He will be speaking on themes around a biblical theology of the city and the epistle to the Romans. He is the coauthor (with Steve Bouma-Prediger) of Beyond Homelessness: Christian Faith in a Culture of Displacement, and (with Sylvia Keesmaat) Colossians Remixed: Subverting the Empire and Romans Disarmed: Resisting Empire/Demanding Justice (forthcoming, Spring 2019).
Dr. Sylvia C. Keesmaat
Dr. Keesmaat is an adjunct professor at Trinity and Wycliffe Colleges at the University of Toronto. She is the co-author of Colossians Remixed: Subverting the Empire and Romans Disarmed: Resisting Empire/Demanding Justice (both with Brian Walsh). Dr. Keesmaat speaks frequently on issues related to biblical faith and creation care, sustainable living and radical discipleship. She earned her Permaculture Design Certificate in 2014 and lives on an organic solar-powered farm with her husband, Brian Walsh, and a fluctuating number of people and animals.