Back to Blog
Post-Truth? Facts and Faithfulness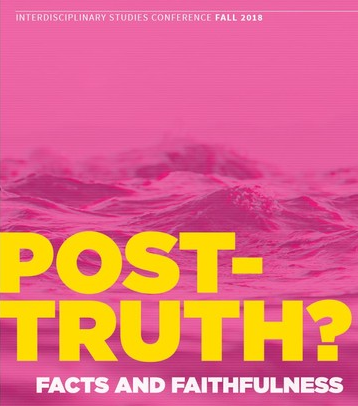 (Fall 2018)
This fall, our Interdisciplinary Studies conference explores our understanding of truth and will feature keynotes by King's philosophy professor Dr. Jeffrey Dudiak.
We are informed by cultural critics that we live in a "post-truth" age, one in which, to quote the Oxford Dictionaries' definition of its 2016 word of the year, "objective facts are less influential in shaping public opinion than appeals to emotion and personal belief."  Remarkably, the truth itself has lost its appeal for us, if not its credibility, and we have polarized into the safe bastions of the like-minded where we can perpetuate our own "truths" (i.e., preferences) over against others who do not share our view of things. Is this a form of skepticism or of cynicism? How did we get to this point?
There will be an evening lecture with Dr. Dudiak titled "The Gospel Truth: Good News or Fake News?" on Wednesday, September 19 at 7 p.m. in L-116.
"Post-Truth? Facts and Faithfulness" program
Keynote speaker
Dr. Jeffrey Dudiak, is Professor of Philosophy at The King's University in Edmonton where he has taught since 1999. With a Ph.D. from the Free University in Amsterdam, his areas of specialization and publication are contemporary Continental philosophy (especially the philosophy of religion and ethics) and Quaker religious thought. He is a member of the Edmonton Monthly Meeting of the Religious Society of Friends and has served on a number of international Quaker ecclesiastical and academic boards. Dr. Dudiak lives in Edmonton with his son York and imaginary beagles "Luther" and "Erasmus." On Friday afternoons, he can be found "schooling" the history department in the art of snooker.

Conference Information
The conference runs Wednesday, September 19, and Thursday, September 20, from 9 a.m. to 3 p.m. each day (beginning in the gym), with breakout sessions from 10:45 to 12 p.m. Please stay tuned for a full schedule of events. Detailed schedules will be available at the welcome table.

The entire event is free for members of the public who are welcome to attend as visitors. There is no need to register—simply show up and we will be happy to have you! Students taking the course for credit should register for INST on their course schedule each term. 

Preaching in a Post-Truth Age
On Friday, September 21, from 12 - 2 p.m. in room N-101 at The King's University, we invite area clergy to a conversation about the challenges of preaching in a post-truth age. How do we communicate the truth of scripture in a world where truth itself is troubled? What understandings of truth do congregants bring with them to worship? We will explore these questions, along with practical suggestions for engaging faith communities, with a broader vision of truth—one that is as nuanced and rich as the gospel story itself. While it is helpful to have attended the Post-Truth conference or Wednesday evening lecture by Dr. Dudiak as background to this conversation, it is not necessary.
A panel of local clergy will begin by sharing some thoughts prior to opening the dialogue up to participants. A light lunch will be served. There is no charge for this event, but please RSVP to Rebecca Warren by September 1 if you plan to attend so food can be arranged.