Accommodations
The King's University offers visitors to the city of Edmonton affordable accommodations year-round. Accommodations are subject to availability during the school year. King's smoke-free campus is accessible by public transit and free onsite parking is available. There are four styles of accommodations to choose from: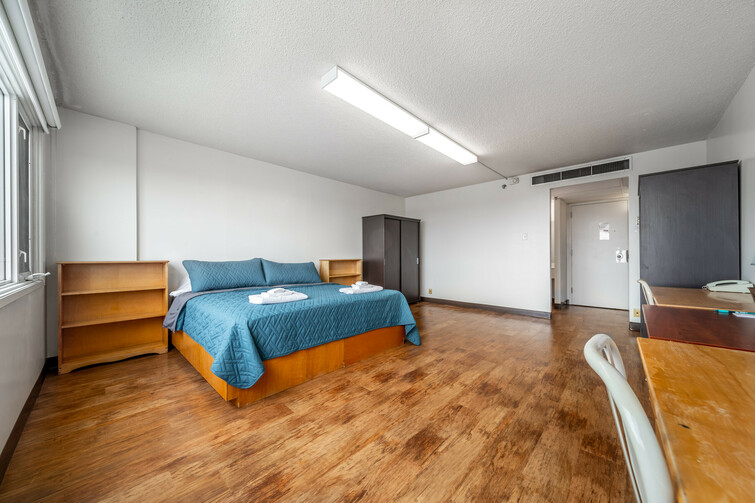 Tower Rooms
Standard
Two twin beds with ensuite bathroom, desks, and wardrobes. Towels and linens included.
King Bed Suite
Standard tower rooms with one king bed and additional room upgrades. Amazing views of the Edmonton skyline.
---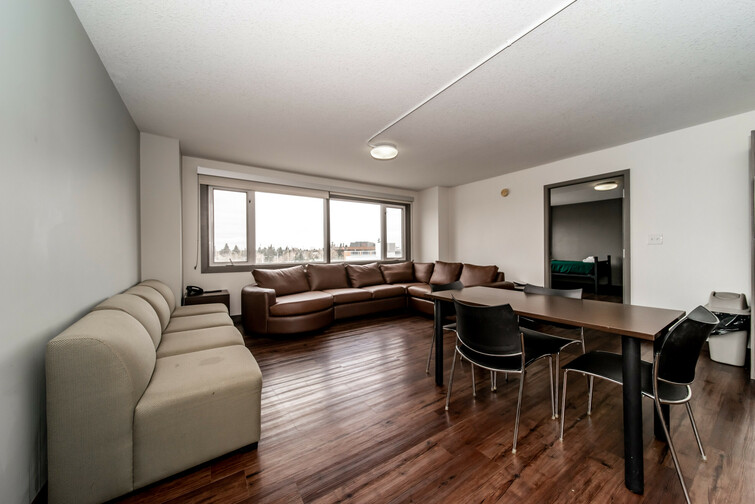 Tower Suites
Two private bedrooms with ensuite washrooms. Two twin XL beds per room. Rooms adjoined by furnished living area and kitchenette. Towels and linens included. Dishes available on request.
---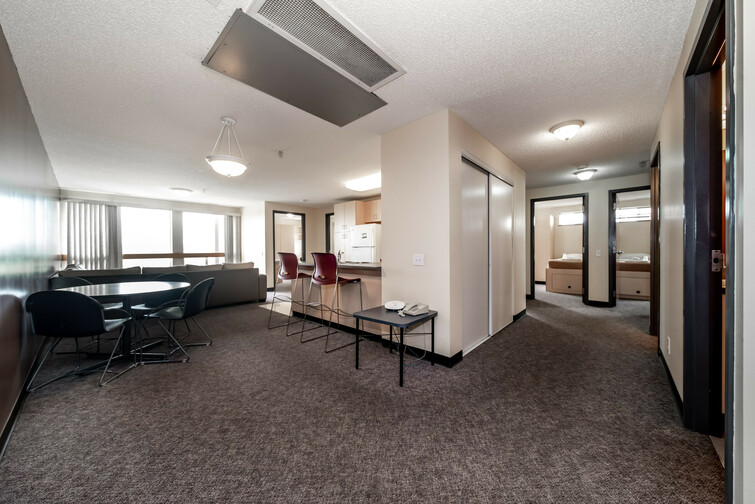 Apartments
Includes full kitchen and furnished living room. Apartments contain six private bedrooms and two large bathrooms. Perfect for families or larger groups. Towels and linens included. Dishes available on request.
Rates are subject to change without notice. All accommodations are subject to GST and 4% Tourism Levy. An extra charge of $15/person may apply for additional guests over two persons. Laundry facilities are available on site—operated with a smart card which can be purchased or rented from the Conference Services office.
Check-in/Check-out
Check-in time is 3:00 p.m. each day. Check-out is by 11:00 a.m. Earlier arrivals and later departures can be arranged through our Conference Services staff (based on availability). If you need to arrive after 10:00 p.m., please contact Conference Services. A $25 charge may apply.
Cancellation Policy
Any cancellations made on the day of check-in will be charged in full. There is no charge for any cancellations made prior to the day of check-in. Cancellations must be made by telephone during office hours, 8:30 a.m. – 4:00 p.m., Monday to Friday.
Long-Term Rentals
All monthly rentals are subject to a lease agreement.
Alumni Discount
We offer discounts to King's alumni for accommodation and conference services bookings. For more information visit the alumni services page.
For more information, please contact Conference Services.