Back to Blog
4 Sustainable Christmas Gift-Giving Hacks
Dec 10, 2019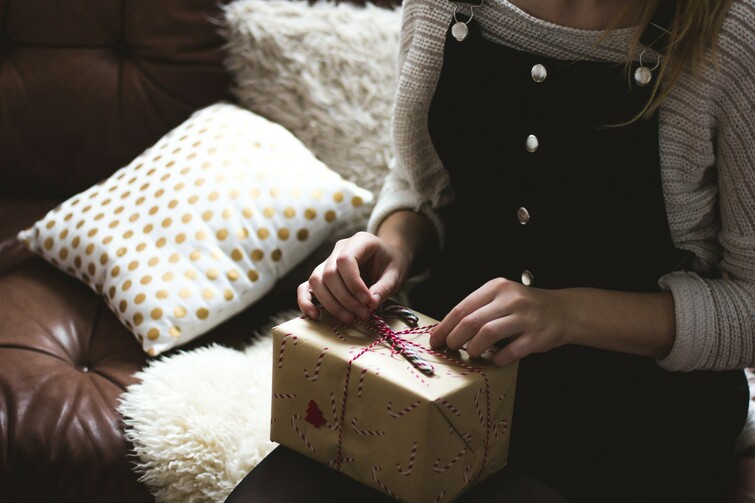 Christmas is just over two weeks away, and while I quite enjoy the festivities of the Christmas season, I can't help but feel a bit discouraged at this time of year. Zero Waste Canada estimates that each Canadian tosses about 50 kilograms of garbage out over the holidays. Altogether, 5,400,000 tonnes of wrapping paper and gift bags are thrown out each year. Additionally, our materialistic society encourages us to buy brand new items, and buy way more than we need during the holidays. With this in mind, I want to share with you some ways you can be more sustainable and creative with your gift giving this season:
Use newspaper to wrap your gifts.
Not only are you using material that can be recycled, but you are reusing material that would otherwise have gone to waste, and you're saving money! Think about how much waste would be saved if everyone started using newspaper instead of wrapping paper?! I don't know about you, but I also dig the monochrome print.
Draw on ribbons, or make your own with fabric scraps and twine.
Buying ribbons is expensive, and they end up in the garbage immediately after the presents are opened. Switch things up this year and draw ribbons on your presents! Or find some old fabric scraps and make your own! Twine will also look amazing with your newspaper wrapping.
Buy used, or DIY gifts.
Grab your friends a couple cute sweaters from value village, or buy your mom some good books from a used book store! There are so many awesome second-hand stores to choose from here in Edmonton, with so much variety that you're bound to find something for everyone on your list. Or, make your own gifts! Homemade gifts, to me, are the most meaningful gifts I could get. Baked goods, knitted accessories, or some personal artwork – there are many great gifts you can make yourself!
Give experiences instead of items.
This is something I've been trying to do with all my gift giving lately; rather than giving material items as a gift, I will take a friend out for dinner, or bring my sister to a concert. I love this because it allows me to spend quality time with those I love, while still "giving" someone a gift!
These are only four of the many ways you can try to be more sustainable this holiday season! I challenge you to try some (or all!) of these tips this year. If you have any suggestions of ways to be more sustainable this Christmas, please share them with us in the comments!
Merry Christmas,
Kaleigh