Back to Blog
After King's: What's New With Recent Alumni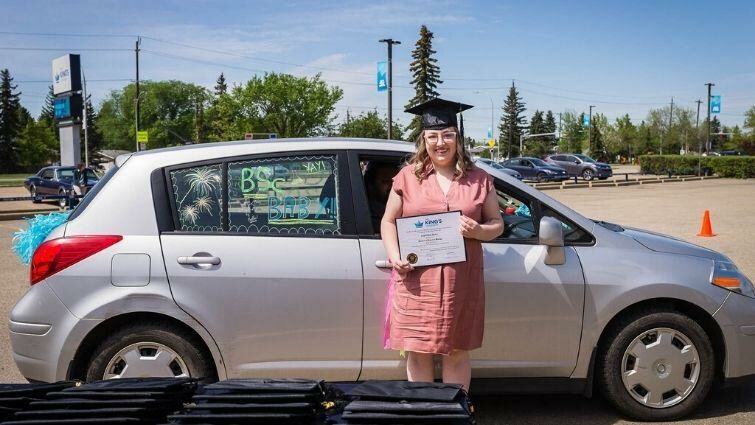 I am so motivated and inspired by the passions, interests, and stories of other King's students, even after they've graduated! Today we have two King's alumni who are going to share what they have been up to since graduating and how their journey and degree at King's helped start their careers.


"I graduated from Kings in the spring of 2020, and I am now a graduate student in Biochemistry at the University of Alberta. Grad school is in a lot of ways different than undergrad; mostly instead of spending time in class and studying in the traditional sense, I spend most of my time doing research in the laboratory. The lab I am a part of studies a kind of protein called molecular chaperones and their involvement in neurodegenerative disease.
"Although I am only a few months in, I am learning that in order to succeed in grad school, you have to be motivated, disciplined, and committed to your work. I feel lucky that those qualities were instilled in me during my time at King's in the Biology program. Our professors knew us, and knew what we were capable of, so they pushed us to be our best. Also, I think that above all else my time spent doing research at King's with Dr. Martin-Visscher is what prepared me the most for grad school.
"Research at King's is unique because undergrads are given opportunities to do research directly alongside a professor, something that doesn't always occur for undergrads at larger institutions. I feel really lucky for the opportunities I was given as a student and a researcher at King's, because I believe they helped me get to where I am now. As for my future plans, I have a lot more years of school to complete before I figure it out."
— Angelle Britton B.Sc Biology '20


"Like many other graduates, my plans after graduation changed drastically due to the pandemic. Instead of getting an entry level job in a marketing firm like I intended to, I got to do something I haven't done in a while; slow down. During the months after completing my business degree, I started to reassess my current career plans. I got more time to think about what I really wanted to do without feeling the post-graduation pressure to get started in the "real world". With that being said, I was able to invest a lot of time in the possibility of starting my own fashion brand and actually taking tangible steps towards realizing a collection launch in the near future.
"Having a business degree definitely helped in building my confidence in what was my initial motive for enrolling into business school. For instance, as I am in the beginning stages of starting a business, having financial understanding is important in order to make feasible decisions. As well as being aware of the necessary legal and corporate steps I need to take in order to have a legitimate company, such as business registration and trademarking.
"When I am not working on developing my own business, I'm applying firsthand what it takes to operate a small business working for my mom's company, Healthy Meals Made Easy. Although it is the complete opposite of my own career interest, I get to apply a multitude of skills I've acquired in business school to furthering her business. Not only do I get to do online and social media marketing for the business, which is my field of interest, I also do website management and design, participate in building corporate relationships with grocery store managers, to which the business is supplying to, as well as developing the hiring processes to expand the team.
"Overall, my business degree has definitely contributed to supporting many decisions that have helped in the progress of both my mom's business and my own."
— Lucile Maniraguha B.Comm '20


When I think of King's students, alumni, professors and even staff, I feel so inspired just hearing their stories of how they've come to King's and what their plans are. That's the way life unfolds: you start, make your mark, and move on. Our alumni are definitely going to be moving on to bigger and more successful opportunities. I hope that their stories inspire you as well. Here's to them and our own passions, interests, and future endeavors.
Yours truly,
Bianca