Back to Blog
Be An Eagle: Join King's Athletics!
Mar 04, 2016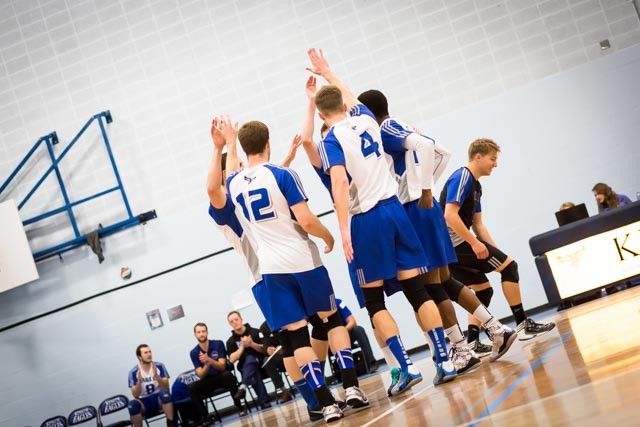 Hey all!
For all the athletes out there, now's your chance to become a King's Eagle! King's is part of the Alberta Colleges Athletic Conference (ACAC), which is top level collegiate sport in Alberta. King's has 4 ACAC teams: Badminton, Men's & Women's Volleyball, Men's & Women's Basketball, and Men's & Women's Soccer and they've been having a really successful year!
Here are 3 reasons why you want to be an Eagle at King's!
1. You Gain a Supportive Community

When you join a team at King's you get rather close to your teammates and coach. You spend a lot of time together during practice, taking road trips to away games, and hanging out outside of practice. It's no surprise that some of your closest friends are also your teammates! It's always great to have a strong support group throughout your years of University.
2. You Achieve in Your Academics
In order to be on a King's team you are required to keep up an acceptable GPA (which is why athletes tend to take only 4 courses per semester). Being on a team requires you to not only work hard on your sports skills, but also to do well in your academics. This ability to work hard both on and off the court will help you succeed in university and later in life too.
3. Fitness
A lot of university students have a hard time finding time to work-out and stay healthy during the school year. Being on a team gives you an advantage in this area of your life! You have multiple practices a week that keep you active, as well as opportunities to use King's WorkOut Centre. Also it's a wide known fact that exercise can help reduce stress, which is really helpful when your in the midst of papers or exams.
If you want to be a King's athlete, here are a few tips to getting on a team:
Fill out a Player Recruitment Form and contact the coach! They are the ones choosing the teams, so it's best to get in touch with them as soon as possible! Also they can come out to high school practices to scout potential athletes.
Attend an ID Camp. You will get to practice with King's team and be able to show them and the coaches your skills.
Check out an Eagles game and see the current team play! If you're interested in attending, contact Admissions for free tix!
We hope you'll be a King's Eagle next year!
Cheers,