Back to Blog
Drama Highlight: Interview with Josh Pires
Jan 25, 2019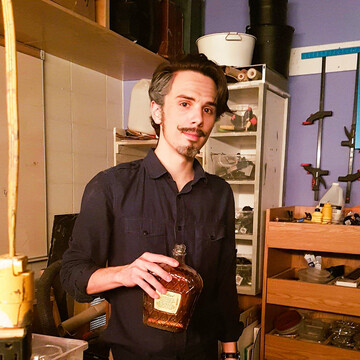 Happy Friday, everyone!
For today's blog, I've asked Joshua Pires, a 3rd year History major/Drama minor student, to tell us about our Drama program! Once he's completed his BA, he hopes to go into Secondary Education.
Which King's productions are your favourite?
My favourite King's productions - both to watch and participate in - are always the improv shows; they're always so fun and so many students come to watch! Also, I've been in every King's production since I've been here so I haven't exactly seen them…
Why did you choose Drama?
I chose drama because, back in high school, my brothers did it so I decided to follow in their footsteps.
Can I get a BA in Drama?
Well, Drama isn't a Bachelor of Arts; it's a Bachelor of Fine Arts, and King's does not offer BFAs. So unfortunately, you can't get a BA in Drama at King's. On the plus side, though, we do offer a Drama Minor, which I think is better because you basically get to do a hobby's worth of work and still get credits!
What Drama courses are there?
King's offers a handful of comprehensive Drama classes that each focus on an important part of the dramatic process: improv, oral communications, stagecraft and design, and theatre performance, each with their own performances at the end of semester. For more information on these, you can take a look at the academic calendar (webpage) and course descriptions. The classes are usually two three-hour class blocks each week, which are on your feet and active (besides a classroom Shakespeare class which acts as an English class too). After you've done all that, you can do a directed studies class, in which you can focus more on things like assistant directing and assistant teaching, which most use to prepare for a career in education. I'm personally involved with assisting with the Oral Communications class, and I feel so closely connected with my prof and the subject matter.
Do I need to be an actor to take drama classes?
Absolutely not! In fact, I think drama is the easiest program for people who aren't as connected with their artistic flair! The improv class is open to anyone who just wants to play with people on a stage. Oral communications is great for anyone who is either skilled at public speaking or wants to enter into a public speaking career and wants to learn professional tactics for it. Stagecraft comprises all of the backstage aspects of drama and is perfect for anyone who likes carpentry, painting, and programing. And after all that, the introductory class is designed specifically for people who aren't exactly actors at all!
Okay, so what are classes actually like? Do you audition for the class?
Each class is a little different as each director is different (King's hires sessional directors and do not currently have one on staff). The auditions are usually really simple. The classes are small enough with large enough scripts that you don't need to worry about not "getting in." It's basically as simple as everyone being in one room and reading different sections of the play with different combinations of characters until the director thinks they have a good idea of what they want out of you. Once you get your part and your script, rehearsals are simply memorising lines, blocking (which is deciding and practicing movements) and character development. As I mentioned earlier, the classes are three hours each twice a week so, although it can get tiring, it leaves plenty of time in class to practice and memorise and solidify your act! Each class also takes you to a play in the city and you would write a short review of it from the perspective of your class ("how does the lighting impact the mood?" for stagecraft or "what communication techniques did you notice in the actors?" for oral communications).
Thanks so much, Josh!
Check out our website to learn more about our Drama program and see our list of past and upcoming major productions.
Have a great weekend!
Emily