Back to Blog
Folk Fest: The Volunteer Experience
Aug 13, 2019
As some of you may already know, this past weekend was the Edmonton Folk Music Festival! I hope some of you made it out, because it was a great time! This year I did something different and volunteered for the festival, it was a different folk fest experience than I'm used to, but I really enjoyed it! For today's blog, I thought I'd give you my review of folk fest and what my volunteer experience was like.
My position was security at the volunteer gates, so I had to work throughout the festival. I worked three 6 hour shifts throughout the four days, but the shifts were spread out so I worked one morning, one afternoon, and one evening shift. Some of the perks of volunteering for the festival are that you get to attend for free, so whenever you are not working, you can enjoy the festival! What I think is probably the biggest perk though is that you get free meals. Delicious meals are cooked for the volunteers every day, so you can eat before or after your shifts! The food was actually amazing, they have really good chefs and volunteers who help prepare all the meals for 2700 volunteers! The third main perk is the after parties. On Friday, Saturday, and Sunday nights they throw a party for the volunteers, with performances! The performers go hang out at those parties too which is super cool.
Going into the festival, I was really looking forward to HOZIER, Bahamas, and Scenic Route to Alaska. Due to the way my volunteer schedule worked out, I couldn't be on the hill to watch HOZIER. Thankfully my post was close enough that I could still hear everything still! And let me tell you…he was AMAZING! I also heard St. Paul and the Broken Bones right before him and they were great!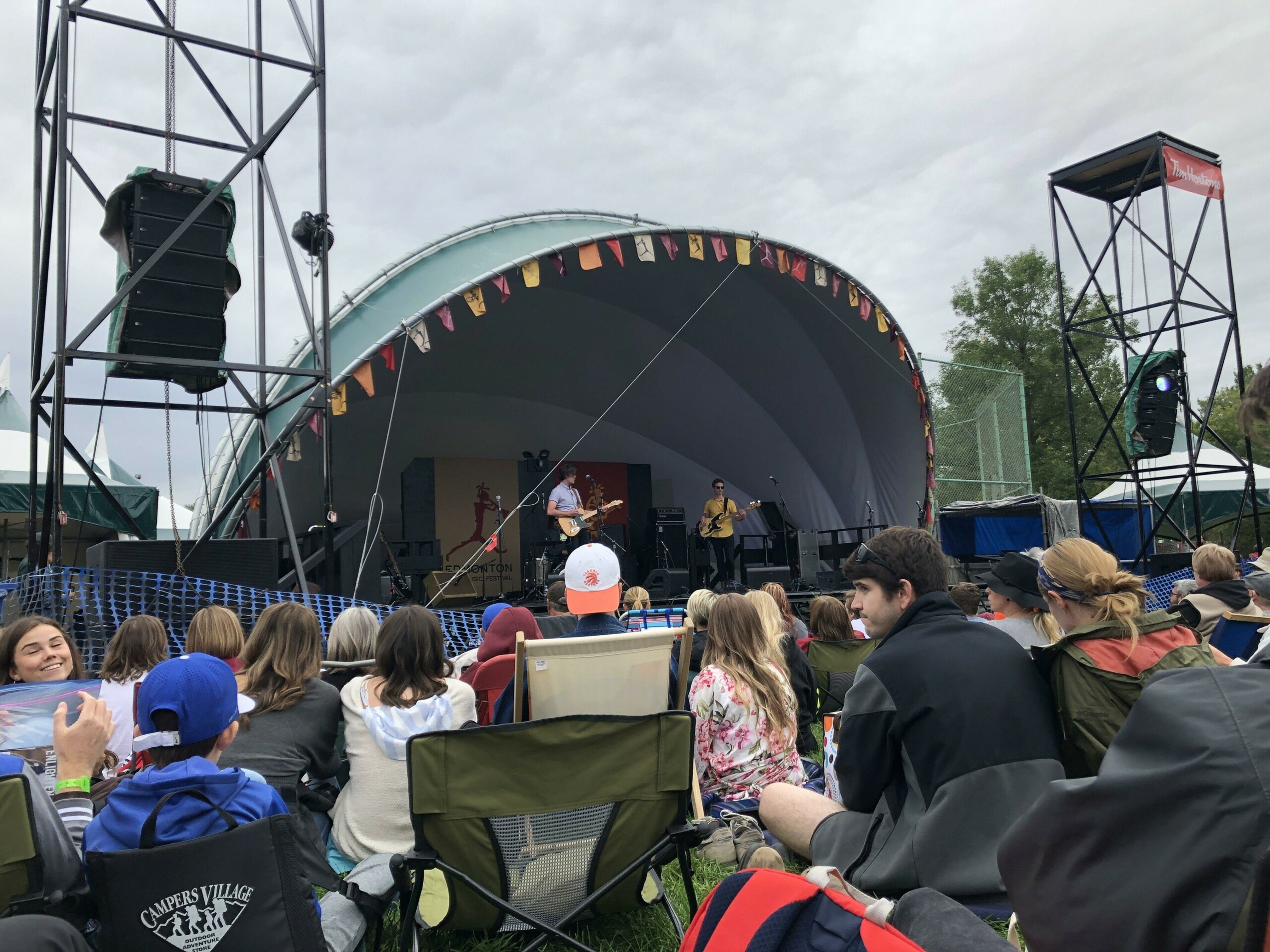 On day 2 I did not have to volunteer, so I was really excited to be on the hill that day. The first concert I went to was Scenic Route to Alaska. If you don't know who they are, check them out! They are a 3-man band from here in Edmonton, and they all grew up going to folk fest, so it was really fun to see them playing there now. After that I checked out a workshop with Tim O'Brien and Jan Fabricious, Kate Rusby, John Smith, and Brother Brothers. The workshops are one of my favorite things about folk fest. If you haven't been, basically the workshops involve a few of the performers coming together and jamming out on the same stage. They will take turns playing their music, but other bands will add to it with extra vocals or instrumentals, which is really fun to watch! The highlight on the main stage that night was Brandi Carlile. She has been at Folk Fest many times before, but she has such an incredible voice that the whole crowd is always so excited for her to come back.
Day 3 I had to work the morning shift, so I was working from 7am-1pm. I actually really enjoyed that shift, despite it being early, because I only missed a couple hours of performances! The first small stage concert I watched was Con Brio. They are from San-Francisco and have an energetic, psych-rock and R&B style of music, which was super fun to watch! After that I went to a workshop featuring the Waifs, Robert Francis, Julia Jacklin, and J.S. Ondara. It was a really good concert, and the type where you can just lay down and enjoy the sound of the music, which was really relaxing! The last small stage I checked out that day was Darlingside. I had never heard of them before, but they were excellent. They are a four-man band and their harmonies are just incredible! There were 4 performers on the main stage that night, but the one I was most excited for was Bahamas! His music is super mellow and really catchy; check him out if you haven't heard him before!
On the last day I had an afternoon volunteer shift, so I didn't really catch the music until after 6. I got to see a small stage concert by Susan O'Neill (SON) though and she was AMAZING! I downloaded her music right away, so definitely look her up! That night there was a bit of a change up to the main stage line up, so I got to catch Dan Mangan that night! I was looking forward to hearing him live, and he did not disappoint. Following his performance that evening was The Waifs and The War and Treaty, which I enjoyed as well!
Overall, the festival was amazing! I really enjoyed the performers this year, and the volunteering experience was good. I would definitely volunteer again; I think the perks are just too good to pass up! If you're a regular folk fest attender, you can expect a different experience volunteering, but I still found it to be a very enjoyable experience. They are always looking for more volunteers, and there are lots of different crews you can join if you apply early, so you can pick what would suit you best!
See you on the hill next year!
Kaleigh