Back to Blog
Get To Know Your Profs – Dr. Ben Cameron
Mar 08, 2022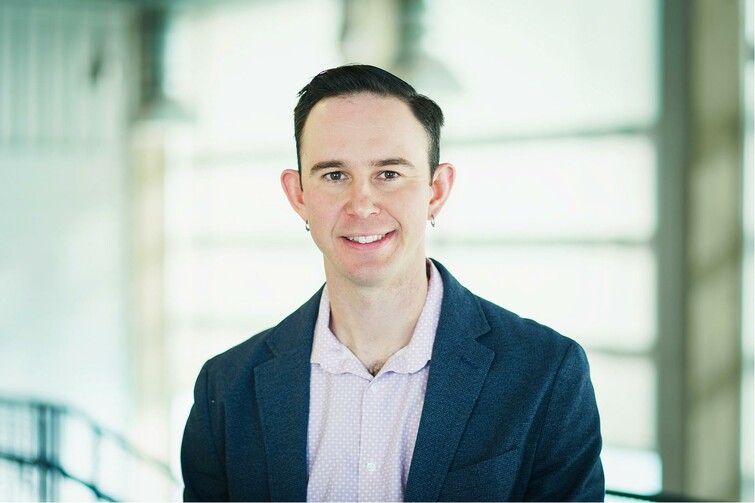 Hello prospective and current students,
Several years ago, we used to have a series of 'getting to know your profs,' and since we have five new faculty this year, we thought it'd be fitting to bring this series back. I'd like to kick off this series with getting to know our new professor of computing science, Dr. Ben Cameron!
Where are you from and what drew you to King's?
I am from Mt. Mellick, Prince Edward Island. I also lived in Halifax, Nova Scotia for six years in grad school and Guelph, Ontario for two years during my postdoctoral fellowships.
One of the main things that drew me to King's was the incredible community here. Everyone I met in my interview was so lovely and cared so deeply about this place that I knew it had to be special and I wanted to be a part of it.
How did you know that your area of expertise was your calling? What inspired you to become a professor?
I didn't really know what I wanted to do out of high school, so I applied for the nursing program at UPEI, because the outlook to get a job was very promising. I completed the first year of the nursing program, but it was clear that it wasn't for me. While I'm sure it would have been a great job and there were many aspects I enjoyed, I missed math a lot. I switched to a math major for my second year and could not wait for classes to start every morning. Especially in lectures about the fascinating mathematics behind computers!
Part of my love for math and computer science was due to the many excellent professor that taught me and made the material so engaging. They made being a professor look like the best job in the world and inspired me to become a professor.
What was your PhD dissertation about? What is your current research about (if you currently have one)?
In short, my PhD dissertation was on graph theory, the study of networks. My current research is still on networks, but also on other areas of discrete mathematics, the mathematics behind how computers work.
In more detail, during my PhD, I studied polynomials (like 1+5x+x2) that arise from studying the non-connections in networks. Studying the polynomials is helpful because there are hundreds of years of results that can be used, whereas studying networks is a relatively young area of mathematics. What is fascinating is that certain properties of these polynomials can tell us interesting things about the structure of the underlying networks that would have been far more difficult to determine by studying the networks alone.
While I am still interested in this, my current research is focused on the graph colouring problem, which is to assign colours to a network so that connected elements always receive different colours. There are countless applications for solving this problem efficiently, including many optimizing resource allocation and avoiding conflict (e.g., final exam schedules are made with a version of graph colouring). I am also currently interested in combinatorial generation problems, where the goal is to list all instances of a certain object efficiently so that successive objects differ as little as possible. This makes it easier and therefore faster for computers to create these structures.
What was the most interesting or favourite class you've ever taken?
While I could list many mathematics and computer science courses here, there is one course that I took for my minor that completely changed the way I view the world. This course was called Thinking Critically About Psychology, taught by Dr. Philip Smith at UPEI. It was absolutely incredible. The course was focused on exposing our underlying biases and how they often lead to errors in reasoning. Every single day I benefit from this course when I'm trying to evaluate the many facts I'm presented with online.
What are your hobbies/interests?
Most of my time now is spent playing with my son, Asher (he's 18 months old). My wife and I have a ton of fun playing games with him and watching him grow.
I love music. I have been in several bands, although now I mainly play my guitar or bass as Asher dances along. It is the best and he is the cutest.
I also love playing and watching sports. I play pick-up hockey in the winter and rec softball in the summer. I'm a new Oilers fan after the move to Edmonton. It's a lot of fun living in an NHL city.
What is your favourite Level drink?
In the month of February, it was hands-down a decaf Nutella latte. When Nutella is not around, a regular decaf latte is my go-to. The baristas make awesome drinks, so I'll sometimes mix it up, but always decaf for my old-man stomach.
What is/are some fun fact(s) about yourself that you'd like to share with us?
● I like to travel but have only been outside of North America once.
● I was very briefly a professional puppeteer.
● I can lick my left elbow.
● In 2021, I lived in three different provinces and spent time in seven total. Needless to say, I am happy to be settled in Edmonton!
I'd like to thank Dr. Cameron for taking the time to answer these questions and for allowing us to get to know him a little bit. King's is filled with lots of wonderful professors and I definitely recommend taking some time to get to know them when you come to King's or if you're already here and still haven't gotten the chance to. They're definitely worth getting to know!
All the best,
Erykca.