Back to Blog
Hybrid Model Challenges and Benefits
Jan 05, 2021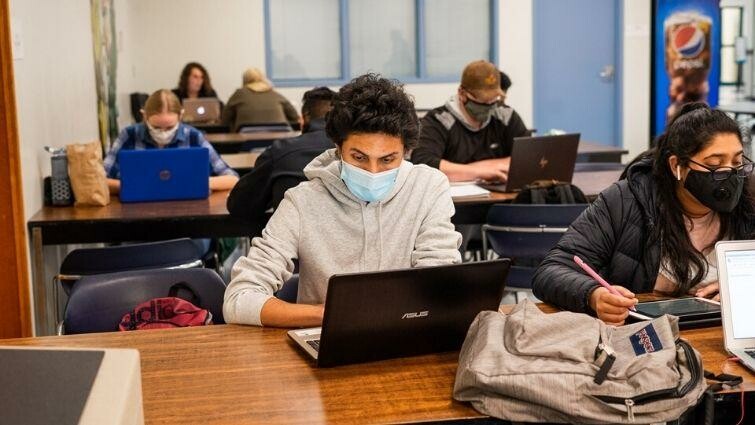 As a student, this past semester has been quite strange and different. Learning online has been a challenge, but I have also really enjoyed the hybrid model, which allows students to work online with the option of weekly in-person classes. For this blog I will be sharing what my experience was like this past semester and some challenges and benefits of the hybrid model:
One challenge is that it was a bit more difficult for everyone to participate in class discussions when some people were online, and some were attending in person. Being online, it sometimes felt awkward to find a time to jump in and share my thoughts, although professors certainly did their best to include online learners. I also found it difficult to stay engaged during online classes, especially when I had my camera off. I found that when my camera was off, it was easy to get distracted and start doing other things, such as cleaning my room. I also found that I became fatigued from the semester a lot quicker than usual. It was harder to find motivation as working online felt less engaging than being in person all the time.
While there were some challenges this semester, there were also many benefits to the hybrid model. One of the best parts about is the flexibility. As students we got to decide if we wanted to partake in class completely online or in-person once a week. I have friends that lived at home this past semester and finished their classes in a different province. I personally partook in classes on campus when I could and found it refreshing to have a change of pace once a week. But King's was very accommodating for those who could not be in person for whatever reason. Another benefit I found from taking classes online was the breakout rooms. I really enjoy group discussions and being able to share thoughts with one another. I was worried this wouldn't happen during online classes, but the professors at King's really worked hard to implement the breakout room function and ensure discussions continued. Finally, I found that writing tests with the hybrid system was better. While each professor had a different way of testing students, for the majority of my classes, we either got take-home midterms and finals or papers. I personally enjoyed this a lot more as I felt like I had more time to gather my thoughts and display what I had learned.
While learning online was challenging this semester, it was not impossible. I would say one of my biggest recommendations for keeping up with the next semester online is to communicate with your professors. They understand the challenges we're experiencing and want us to succeed. If you feel lost or like you're falling behind, seek your professors' help! With dedication, focus, and lots of breaks, we can successfully complete the next semester. Now as we start a new semester and a new year, I wish everyone the best with their studies.
You can do it!
Lindsay