Back to Blog
#IChoseKings - Gap Year Student
Feb 22, 2017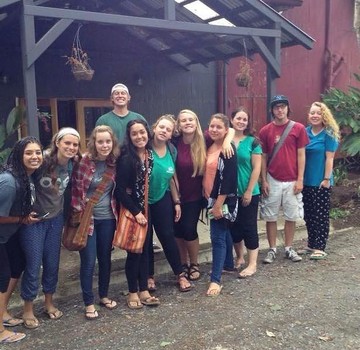 Hey future King's students! 
Today we're chatting with the lovely Heidi Frei, a second year Sociology student, about her Gap Year experience. A lot of students choose to take a Gap Year after high school for various reasons, myself included. So if you're on the fence about taking a Gap Year, read on to see why Heidi chose King's after taking a year off!
Why did you take a Gap Year? 
I took a Gap Year because after finishing Grade 12 I really wanted a break from assignments and tests. Also, I wanted to take a year to really focus on growing my relationship with God and I knew that a discipleship school would be a good environment for that. I decided to do a Discipleship Training School (DTS) with an organization called Youth With A Mission (YWAM). 
Why did you choose YWAM? 
Honestly, at first I didn't want to do YWAM because I knew of so many people who had and I wanted to do something different. But God closed some doors and pointed me towards YWAM, so I decided to go! 
Which YWAM program did you choose? 
I did a DTS in Mexico near the city of Tijuana, where for the first 3-4 months we had speakers come and lecture for a week at a time on different aspects of Christianity. The last couple months was spent doing outreach where we travel to different places spending time evangelizing and doing service projects. For our outreach, we travelled to the Dominican Republic and Costa Rica. 
What is your favorite memory from YWAM? 
My favorite memory is during the lecture phase where we went down to the ocean to spend some time individually listening for God to tell us something and I ended up playing in the waves with God. It was just really freeing and it is one of my favorite God moments that I have had in my life. 
Why Kings? 
I chose King's because I had attended a King's Encounter Weekend when I was in high school and I really appreciated the small class sizes, the Christian perspective, and also the super friendly and welcoming people. 
How did taking a Gap Year affect the admission process? Was it easy? 
It wasn't terribly difficult, but it was a little inconvenient at times because I was trying to plan out my schedule and take care of other admissions next steps while I was still in Mexico. However, my Admissions Counsellor was really great, and through many emails and a few phone calls, we were able to get things figured out. 
What advice do you have for students contemplating a Gap Year? 
Do it! I loved taking a Gap Year and I think that taking a break from school makes it more exciting to go back. However, if you are taking a Gap Year to figure out what you want to do with your life, be warned, you probably won't figure that out. That being said, a Gap Year will help you discover a little bit more of who you are and give you a chance to try things that otherwise you might not get to experience. It's definitely a great way to spend a year of your life! 
You heard it here first folks! Take a leap of faith and take a break from school if that's what you feel you need, we'll still be here when you get back and our Admissions Counsellors want to help you every step of the way. 
xoxo, Gossip Girl 
J.k. It's Becky