Back to Blog
#IChoseKings - Bachelor of Music
Mar 16, 2016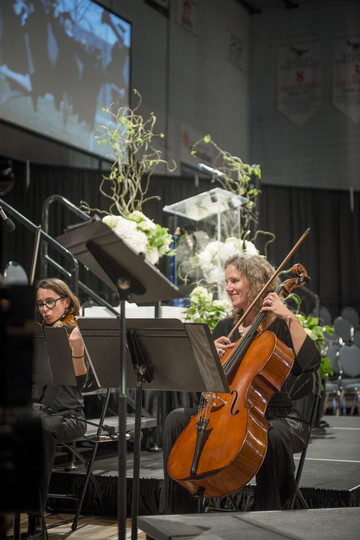 Hi prospective students, 
For our final installment of our #IChoseKings series, I'm going to look at the fantastic music programs available at King's and why you should consider taking one of these programs!
Degree Overview
King's offers several music programs:
4 year Bachelor of Music degree. 
You can also take a 3 or 4 year Bachelor of Arts Degree with a Music Major. 
King's offers a 2 year Diploma in Church Music program, which can be taken alongside a degree at King's.
If you already have a BMus degree you could take the 1 year Performer's Certificate, and after that, the 1 year Artist's Diploma.
Why Take Music at King's? 
The more intimate setting of King's with its small student-to-professor ratio is more conducive to personal growth and learning. 
Frequent performance opportunities exist through weekly repertoire classes, lunch hour concerts, chapels and various concerts throughout the year. 
The King's Concert Choir and Chamber Choir are open to all students, staff, faculty and community members leading to great community and fellowship. 
Great music facilities including a performance hall, grand piano, harpsichord, pipe organ and spacious practice rooms (with natural light!).
Like all of King's programs, music is taught from a Christian perspective, encouraging students to take up the role as responsible stewards of God's creation.
Degree Highlights
Bachelor of Music & Bachelor of Arts, Music Major: These programs cultivate students talents in the areas of performance, aural skills and music theory. You will develop a deeper understanding of music's cultural and historic roots. 
Diploma in Church Music: This diploma provides basic training for students who wish to gain skills in organ and choral conducting. It can be completed while studying a music degree or on its own. You will given a background in music with classes in conduction, organ music, aural skills and tonal harmony. 
After Degree Performer's Certificate & After Degree Artist's Diploma: These two programs can be completed by students who have already completed a Bachelor of Music degree. These programs are preparation for a Master's degree or is preparation for a professional career in performance. 
Course Highlights
MUSI 200: Music Theory - a great introduction to music theory, takes you back to basics. 
MUSI 216: Tonal Harmony - lots of fun, taught by a great professor!
MUSI 205: Music Appreciation - interesting to learn about all the types of music throughout history!
Tips On Choosing Your Program 
If you enjoyed music in high school or play a musical instrument, then a Music program is for you! With a diverse range of options, there's a program for you no matter what you're interested in doing. Check out the music program website here.
Good luck! We can't wait to see you on campus!
Cheers,
Josh