Back to Blog
Winter I.S. Keynote Speaker Feature and the Benefits of I.S. at Home
Jan 19, 2021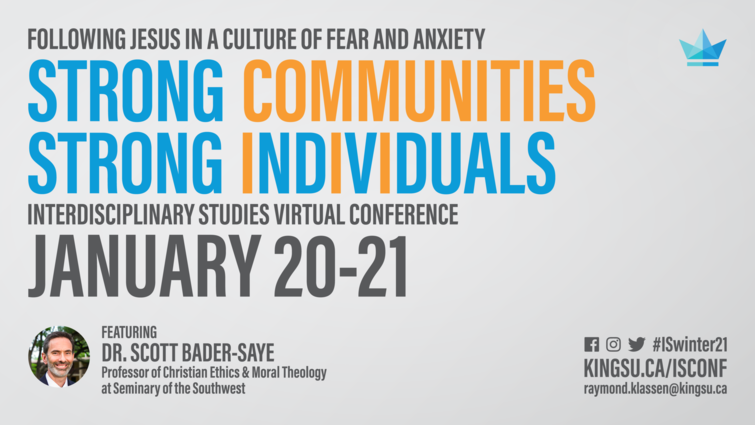 With a New Year comes yet another enticing Interdisciplinary Conference! In the Fall semester I wrote about the changes to our Interdisciplinary Studies Conferences: for the first time the theme from the Fall semester will carries on into the Winter semester.
If we recall, the Fall I.S Conference had a theme of following Jesus in a culture of fear and anxiety. We know that 2020 was a year full of fear and anxiety but we must dwell on the fact that it also brought opportunities and opened up important conversations.
We continue to talk about following Jesus for this Winter's conference but this time it's about following Jesus as a strong community, made up of strong individuals. This conference will be about how we can come together as a community that responds to fear and anxiety with courage.
We have many speakers for this uplifting and inspiring conference! However, our keynote speaker for the event is Dr. Scott Bader-Saye. He is an academic dean and the co-founder and leader at Peacemeal, a missional Episcopal community. His research centers on theological readings of gender and transgender. For more information on his research and further research interests, you can visit the Interdisciplinary Studies page on our website. 
It has been an interesting transition from taking this conference on campus to the comfort of your own home. A lot of our students have been immersed in this transition since the first semester now and we'd just like to take a moment to share some benefits that our students found in taking I.S at home.
Everyone can have access to I.S!
The I.S. Conference has always been open to the public, but there's something special about listening as a family from home. Do you have family members that you think may be interested in this conference? They can join you in listening to our various speakers and our keynote guest!
I.S with comfort.
You can enjoy this conference from the comfort of your own home. You can turn the fireplace on, grab your blanket and some food, and enjoy what our speakers have to say.
Everyone can be in an environment that suits them.
Now that I.S happens off campus; students can find an environment that is less distracting and more comfortable for them to listen and relax. Sometimes we focus on the message of the conference better when we are in a familiar space or an environment that we have more control over.
I am so thrilled that our King's community gives us countless opportunities to listen and learn from various intellectual and inspiring speakers. This semester's Interdisciplinary Conference is sure to be a hit.
I hope all of you enjoy!
Bianca