Back to Blog
The Wellness Room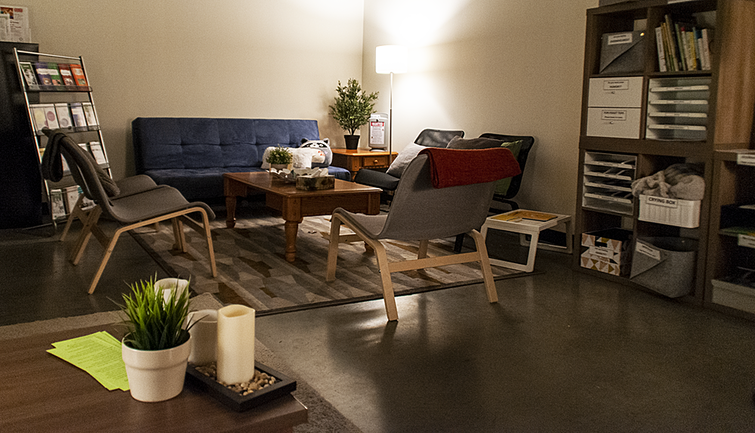 The Wellness Room is one of King's numerous ways of taking care of students. It was recently added to campus as a place for students to rest and recuperate. It is located in the North Academic Wing and can be accessed by all King's students during regular building hours. I've interviewed a couple of students to give you an idea of what the wellness room is and what the experience of using it from student's perspective is like.
Raluca Sulica:
Raluca is a third-year psychology major and is apart of the King's Community Wellness Team.
What is the Wellness Room?
The wellness room is meant to be a place to relax, breathe, and take care of our mental health in diverse ways. It was designed for every single student that desires to release stress and anxiety while taking a break or simply resting. It's a space created to bring peace and comfort.
What kind of resources are available to students within the wellness room?
There are many resources available in the wellness room such as brochures explaining mental health or ideas for how to release stress, for example. Additionally, you will find boxes specific to certain emotions/feelings such as anger, anxiety, crying, or meditation to help you get through them. Each box has tools that can help students feel better and take care of themselves. We have also put journals and books students can take to reflect on and read as well as crafts like colouring or drawing. In the wellness room you will also find a coffee machine and tea available for every student to get some extra energy and a mini fountain to relax our minds.
What is your favourite part about the wellness room?
As a Community Wellness Assistant, my favourite part about this room is that I get to meet with students and provide a safe space to talk and share thoughts. I also love coming here to spend time alone and do task in a peaceful environment. When in a rush or during a busy time, the wellness room reminds me to slow down, take things one step at a time, and relax my mind.
Why would you recommend students use this room?
I would recommend this room to every student that wants to destress and find ways to take a break from the busyness of school. It's a good space to relax and do little things that make our souls happy such as journaling, drawing, drinking coffee, etc.
Kena Boldt:
Kena is a fourth year English major and History minor. She also works in the admissions office alongside myself as a student intern.
What was it like using the wellness room?
I enjoyed using the wellness room because it was a quiet space to recuperate and focus on my mental health.
Did you find it helpful?
Yes, especially when I was alone and no one else was occupying the space. There are many resources and activities available. 
What did you like most about it?
The calming atmosphere of a quiet, semi-lit room.
Would you use it again?
Yes, especially when I'm on campus and need a break from everything. 
Would you encourage fellow students to use the wellness room and if so, why?
I always encourage students to make use of the space given to us. A lot of thought has been put into the wellness room and it has so many resources and activities for students to relax and focus on their mental well-being. 
Personally, I have yet to take the opportunity to use the wellness room. After hearing from Raluca and Kena, I certainly feel encouraged to give it a try! If you are like me and have not used the wellness room yet, I strongly encourage you to! The next time you feel overwhelmed, stressed, or upset, spend some time in the wellness room.
Take care of yourselves,
Lindsay