Back to Blog
My Epic Alberta Road Trip
Aug 05, 2016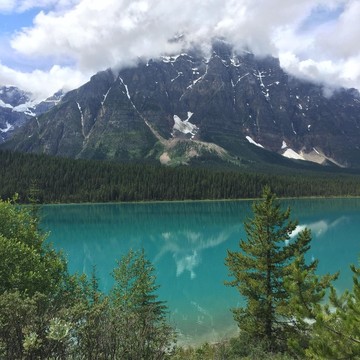 Hey King's!
I came to King's from England and I had never been to Edmonton before, let alone Alberta! Even though I've lived here for two years already, I've never really explored all that this province has to offer! So this summer my brother Zach flew over from England and we both went on an Alberta Road Trip together. I was so excited to finally see more of Alberta and especially make it to the mountains! I'd like to share with you some of our trip highlights to help you plan your own epic summer road trip (and make sure to scroll to the bottom of the page to see my travel photos)!
Day 1: Edmonton - Jasper
If you're wanting to make the most of your day in Jasper, your best bet is to leave as early as possible to maximize your daylight hours! My brother Zach and I left Edmonton around 6 a.m. and made it to Jasper by 9:30 a.m. 
Make sure to check out the famous Bear Paws Bakery in the Jasper townsite for amazing coffee and delicious baked goodies. It's a great way to start your day!
We spent the afternoon hiking along Maligne Canyon, which is a relatively easy, yet still surprisingly beautiful hike, along the Maligne River. 
Here's your complete Jasper to-do list:
Athabasca Falls
Bear's Paw Bakery
Maligne Canyon
Miette Hot Springs
Medicine Lake
Wilcox Pass (Athabasca Glacier)
Day 2: Jasper - Banff via Icefields Parkway
While there's plenty of things to do in Jasper, Zach and I decided to head down to Banff on our second day. The main highway between the two townsites is called the Icefields Parkway and has been voted one of the most beautiful roads in the world! It's quite a long drive, so make sure you have enough gas (and snacks) with you before you go! Also watch out for wildlife - we saw a bear on the side of the road! Lake Louise is a great stop along the highway to eat lunch and get in a quick hike to stretch your legs! Once we'd made it to Banff and set up our campsite, we enjoyed the rest of the evening in the Banff Hotsprings. 
Here's your complete Icefields Parkway to-do list:
Wilcox Pass (Athabasca Glacier)
SkyWalk
Columbia Icefields
Athabasca Glacier
Lake Louise
Day 3: Banff - Canmore - Drumhellar
This was probably our busiest day of the road trip! We started off the day with a hike along Johnston Canyon and up to the Inkpot cold springs. This is a longer hike, coming in around 15km, but was certainly worth it for the beautiful river and amazing views from the springs. 
Here's your complete Banff to-do list:
Lake Louise (Lake Agnes Tea House Hike)
Banff Avenue (Townsite)
Bow Falls
Upper Hot Springs
Vermillion Lake
Johnston Canyon
Bow Lake
Moraine Lake
Rocky Mountain Brewing Company
After a quick stop for lunch in Banff, we headed out of the National Park towards the town of Canmore. A guy at our campsite that morning recommended a hike outside the town called the Grassi Lakes Hike. Zach and I both agree that this was probably the most fun hike we did on our road trip. It's a short, but steep, hike with most of the trail following a cliff edge that you have to climb up. The view from the top is amazing and you can really see the full extent of the five lakes that make up the Grassi Lake area. The trail head is really easy to get to - just head towards the Nordic Centre and keep following the road up the hill until you see a signpost for the trail!
Here's your complete Canmore and area to-do list:
Grassi Lake
Quarry Lake
Bow River (Canoeing) 
Best Ice Cream in the town of Cochrane
Day 4: Drumheller - Edmonton
Having just spent the last three days in the mountains, Zach and I wanted a little change in scenery. So we decided to drive across the province to Drumheller and check out the dinosaurs and the bad lands. We started the day by visiting the Royal Tyrrel Dinosaur Museum, which showed Alberta's really interesting past. After an educational morning, we drove to see the Hoodoos, which are an interesting geological rock formation. There's also a small hike you can do in that area too! 
Just ten minutes from Drumheller lies a small town called Wayne. To get there you have to cross 11 small single-lane bridges, making for a very scenic and relaxing drive. 
Just as we were finishing our hike in Horseshoe Canyon, a famous Alberta summer storm started to roll in. We decided that it was probably a good time to pack up and head back home to Edmonton.
Here's your complete Drumheller to-do list:
Royal Tyrrel Museum 
Hoodoos
Suspension Bridge
11 Bridges to Wayne
Atlas Coal Mine
Horsethief Canyon
Horseshoe Canyon
Dinosaur Provincial Park
Alberta really is a beautiful province with so much to offer. We only got to see a small glimpse of it all over our four days and it just left me wanting to explore more! I recommend an Alberta Road Trip to anyone. Whether it's to the mountains, down to the badlands, or up north, Alberta is a province that will surprise you over and over again with its diverse landscapes, natural beauty and most of all, the interesting experiences you'll have on your way! 
So whaddyasay? Same time next year?
Josh (& Zach)