Back to Blog
Get Paid Doing Biology Summer Research!
Aug 12, 2016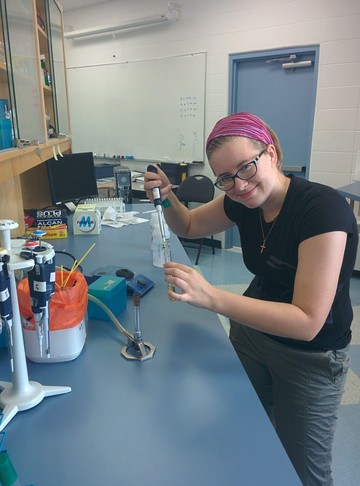 Hey everyone,
I hope you're all enjoying our last few weeks of summer! While you may be relaxing, quite a few of our King's students are busy this summer taking part in some of our fantastic summer research positions. King's offers some summer research opportunities across a variety academic disciplines, particularly in Biology, Chemistry and Computing Science. For today's blog I had the chance to talk to with senior King's student Kaitlyn Visser about her research in the Biology department! Check out what she had to say about her research! 
What is your current degree?
 "I'm a 4th year senior biology student."
What is your job? What do you do?
"My work this summer is a continuation of work that I did last summer, as well as for my BIOL 497 course. We've been studying a small bacteriophage, which is a virus that infects only bacteria. It's interesting to study because this bacteriophage infects bacteria associated with food spoilage. The final outcome of our research would be to possibly use the bacteriophage to limit the growth of spoilage bacteria on food."
What is your favourite thing about this job?
"I am able to get insight on how scientific research is done in the real world and gives me an idea of how I want to use my science degree when I graduate. I also get amazing hands on experience in research, presenting and writing scientific articles for publications, which will be an essential part of my career after I graduate."
What is your least favourite thing about this job?
"I would say Biology is pretty finicky and a lot of the time what you're going to do depends on the growth of bacteria. There are a lot of times things don't grow or work and you have no idea why."
Would you recommend this to other students? Why or why not?
"Absolutely! It provides you with amazing experience, and it's wonderful opportunities to boost your resume as well as gain references for future jobs or studies."
Do you know of any other research that is currently going on in this department?
"I know there is a study going on about wolf populations. Also there is a lot of research that goes on during the year too that students are an integral part of by doing research in the BIOL 497 course or through volunteering."
Do you find this job useful to you when thinking about developing your skills for a future career?
"Firstly, I would say that you get to know your supervisor well and they get to know you on a more personal level which makes them an excellent reference for any future job. Secondly, I have found that doing studies on viruses has really made me passionate about going into virology at a Masters level. I have also received numerous opportunities to practice presenting the work I have done over the summer and during the school year, which has allowed me to become more confident in public speaking. This will aid me as I would like to one day become a professor. I've also had my name published on 3 academic papers!"
Well, that's all for now folks! Hopefully this has given you a better idea as to what it's like to work as a summer research student and how you will benefit from it as a student in your undergrad! If you missed the last post about research opportunities at King's, check out my May blog on what Ty de Boon has been researching as a part of The King's Centre for Visualization in Science.
Cheers,