Back to Blog
National Men Make Dinner Day (with Aubry)
Nov 03, 2016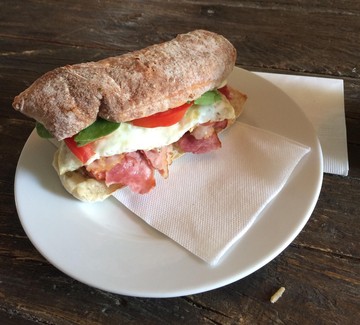 Hey current and prospective King's students! 
For those of you who don't know, November 3rd was National Men Make Dinner Day, and yours truly was tasked with blogging about making dinner. Yes, it apparently is a real thing, but we'll get to that later. As it turns out, November 3rd was also National Sandwich Day, so I decided to make, you guessed it, hamburger soup. Kidding, I made sandwiches. But I made fancy sandwiches. One might even say they were fanwiches.
I decided to go with a bacon and egg sandwich with arugula and tomato, as well as a tomato jam because I am a huge breakfast for dinner enthusiast. I picked up the bread from a bakery near our house and got to work assembling. It turned out really well. You can see a picture of one above!
Anyways, the whole point of National Men Make Dinner Day is to encourage men to make dinner for themselves, their families and their friends, and to fight the stereotype that guys can't or shouldn't cook. Guys, cooking isn't that hard, and it's actually pretty fun. The best part is, you just have to practice. We really shouldn't need a national day to encourage guys to cook dinner, we should just do it. Anyways that's just my two cents. 
If you ever need help prepping dinners or just want to look up fun recipes, check out some of the sites below!
Stay Excellent!
Aubry
Note: This is Aubry's last post as a 6:01 blogger - thank you for all your insights and helpful tips, and best wishes as you finish your program at King's!