Back to Blog
My Encounter Weekend Story
Nov 07, 2016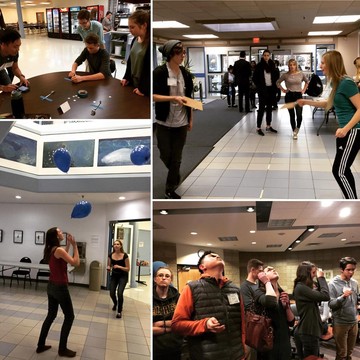 Hey Future Students, 
Do you know exactly what you want to study? If not, you're in good company because deciding what program to major in is a big decision (and not always an easy one). With King's Encounter Weekend (KEW) coming up next week, I thought it was the perfect time to share my encounter weekend story and how being on campus helped me decided what to study.
KEW helped me pick a program.
Before attending KEW, I knew I wanted to come to King's but I had no idea where to start and I had only a vague idea of what I wanted to study. I knew that I wanted to go to law school, but since the admissions requirements for law school are really open, I didn't think it really mattered what I studied during my first degree.
During KEW's King's 101 presentation, I realized that settling on a program isn't necessary in order to come to King's. Many students are Undeclared, and since King's is a liberal arts university, you take courses in a variety of areas, which allows you to change programs really easily. With that said, I was introduced to a program that's unique to King's and is the only one of its kind in North America: the Politics-History-Economics (PHE) program. After hearing the kind of careers this program prepares students for and the kind of opportunities available through the PHE program, I was really intrigued.
I met really welcoming and informative students and profs.
I really lucked out when I was paired with a student to stay with for the weekend because my student rez host was a first year PHE student! Not only was she in PHE but she was doing the Honduras Water Project through the Micah Centre. She was really welcoming, introduced me to all of her friends, and she was super informative. She shared with me her excitement for the Water Project and encouraged me to look into the Micah Centre, which helped me realize that the Micah Certificate was a really great fit with my beliefs and what I'm passionate about. The Micah Certificate is compatible with most programs and is an especially great fit with the PHE program.
Since the King's 101 Presentation and my rez host had sparked a growing curiosity for PHE, I decided to sit in on a human rights politics class during KEW's classroom session. This class was taught by Dr. DeMoor and his interaction with the class and the material he covered really solidified the idea that the PHE program was the right one for me.
KEW made the transition to university so much easier.
KEW not only introduced me to a whole group of new friends that remembered me when I (finally) became a King's student, but it also helped connect me to a program that I'm crazy passionate about. My homework load is so much more bearable simply because I love what I'm learning.
Don't miss your chance to fall in love with King's and all its incredible programs by attending King's Encounter Weekend on November 17-19! Online registration ends this Friday, and let me give you a tour when you get here!
                                                                        Stay Golden,