Back to Blog
Open House Experience Map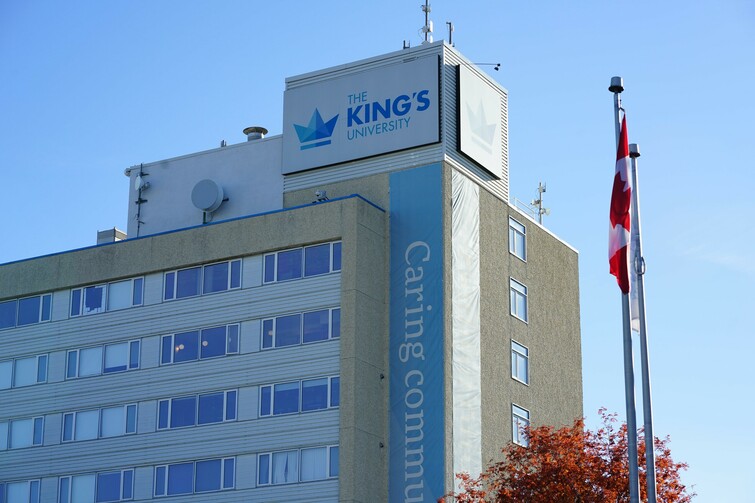 Each year during our Open Houses we have many students walk through King's doors ready to experience what our school has to offer.  Some come with a mix of nerves and excitement, others fully ready to embrace everything!  Whichever person you are, you are welcome at King's and we hope you decide to call our school your home during your post-secondary education.  Here's what our open houses are all about:
When you walk through the front doors, you will be greeted by our King's ambassador team.  These students have been anticipating your arrival and are excited to tell you all about King's from their own experiences as a student.  They will help you sign in, give you a gift bag filled with information about the school, and give you a short highlight tour of everything to check out while on campus!  One of the ambassadors will bring you to our academic booths, located in the heart of our campus, where you will then be able to mingle with faculty and students in every degree offered at King's.  I highly encourage you to visit the booth(s) that might apply to the path you are planning to take while at post-secondary, but also to visit others that you are curious about.  Our professors really enjoy meeting new students and look forward to these events because of these interactions! 
I highly encourage you to visit all the other booths that you'll pass when visiting.  The financial aid booth is a great place to learn about scholarship/bursary opportunities, as well as how to manage paying for your tuition during and following your time in post-secondary.  Our student life booth will give you information regarding our counselling services, spiritual opportunities, commuter and residence events, student accessibility, and much more!  It is loaded with valuable information about many resources our school has to offer.  The alumni booth is another one not to skip over.  They will give information for both your parents about ways to stay in contact while you are attending school, but also the perks of when you get your degree at King's and become an alumni yourself (one perk being really cool alumni socks!).  Our admission booth is a great way to meet the admissions counsellor that you have been in contact with if you've shown interest in King's before.  It is also great to meet who your admissions counsellor will be if you stay in contact with King's.  They are the professionals when it comes to any questions regarding your application, what requirements you need to attend, and what first year will look like for you.
I recommend you to go on a tour of our campus while you visit.  We offer science, arts, and residence tours throughout the whole event and they are definitely worth it! They get you familiar with our campus and emphasize what our school is all about. A couple other quick highlights that are worth a look at are the Level, our Student's Association office, and the library.  The Level is a coffee house located on campus that is run by our SA and is employed by students.  It is a great place to have a chat with a professor or friend and to do homework.  Our SA is in charge of the clubs that happen on campus, the health care plan, and much more.  They also run super fun events throughout the year for students, both on and off campus.  Our library is a cool place to check out.  The library is a great place to find resources and study both individually or with a group.  A new Academic Enrichment Centre (built this year!) is attached to our library and will offer more resources for students to use while studying at King's.
I encourage you to come and experience everything King's has to offer! Plus, if you attend you get to apply for free. The fee is waived during this event, and who doesn't like to save money? Our next Open House is this Saturday, October 5th!
Excited to see you all there!
Mckena