Back to Blog
Post-Truth? Facts & Faithfulness - 4 Reasons to Get Excited about the Fall IS Conference
Sep 19, 2018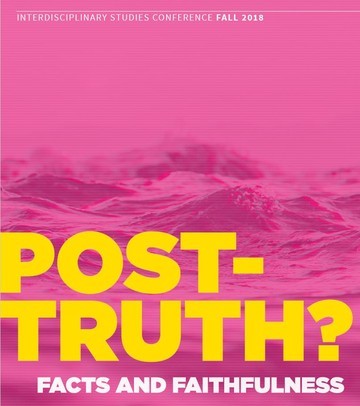 Today's the first day of our Fall Interdisciplinary Studies Conference!
The IS Conference is a fantastic and unique aspect of a university education at King's. Every semester it encourages us to step out of our discipline and engage in learning and growth for life in general, without the ulterior motive of eventually stepping into a career. It challenges us to wrestle with new topics and its honestly just great preparation for the professional world; a lot of us are going to have to go to conferences that are a lot bigger and a lot more boring than IS once we've landed a job in our chosen career.
I know a lot of students tend to be pretty exasperated with IS, so here are some exciting (and some of them new!) features to look out for today and tomorrow, from a fellow student and a genuine IS-supporter:
Jeffrey Dudiak is our keynote speaker!
While having experts flown in to Edmonton from elsewhere to speak to us is a valuable way to broaden our learning and listen to outside voices, I'm really excited about having one of our own professors lead our learning this semester. If you've taken a class with Dudiak, you know he's a great and hilarious prof. If you haven't taken a class with him yet, you really should! I took my intro Philosophy requirement with him and I loved it!
Honestly, I've already taken all my required IS credits, and I'm still attending this year because I'm excited to learn from Dudiak again.


The Breakout Sessions are really interesting this semester!
I'm gonna be honest with you. Some semesters I have to pick one just because I have to pick one, but this year it was so hard to choose! They all look so interesting! Make sure you take a look at the descriptions of the sessions in your program before you decide which one to attend, and read the speaker bios too (Dr. Sandle's is especially funny).


New! Faculty Talk-Back Sessions!
This is a new addition to the Conference, and I'm excited about it! In past years IS has been a great opportunity to listen to outside voices—we love our profs, but we hear from them every day all year. This is a new chance to listen to our profs in the context of a different topic than we're used to. It's also an opportunity to hear from some profs from within our general discipline that we might not usually hear from (for example, I'm an English major, but the Faculty of Arts is so much more than that!).


The Theme: Post-Truth? Facts & Faithfulness
Helloooooo! This topic though! People might laugh and make "fake news" jokes, but I think truth is a great thing for us to wrestle with this year. It's what we're doing every day already, and setting aside the conference time to really deeply consider what truth means is going to be an important part of our journey as we find our place in the world.
Don't shy away from different ideas of truth. Be critical of what you believe in. Enter with good listening ears. Challenge yourself! That's the only way you'll grow.
The IS Conference is a valuable learning opportunity that just doesn't happen at other universities. If you're critical about IS, I would encourage you to question that notion and challenge yourself to be a little more open to different areas and kinds of learning. Remember, conferences like this are how you'll be learning once you're working in your career! Beyond that, your education is not just about landing you a career! It's about developing as a person.
Happy learning!
Emily