Back to Blog
Student Feature: Shaylyn Wagenaar
Oct 23, 2018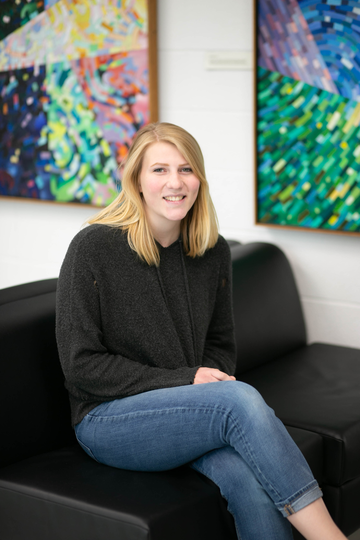 For today's blog, we're going to get to know one of our students! Shaylyn Wagenaar is a first year student and one of our Ambassadors, which means she helps represent King's to future students. To hear more about her story and learn about other King's students, check out our @thekingsustories Instagram account!
Year and Program: I am a first-year Bachelor of Arts English major. I hope to add a communication arts minor next year to specify further in a journalism career, because the minor offers journalism courses.
Commuter or Residence Student: I am a residence student! I love living on campus and being surrounded by such a wonderful community. You get to know other students and form a very Saturday night stressed-induced friendship with them. Not to mention the convenience residency offers. If I forget my notebook or textbook I can just quickly run up to my room and grab it, which is very handy for a forgetful person like myself.
Hometown: I'm from Red Deer! Just a short hour and a half drive from Edmonton.
Why did you choose King's? I chose King's because it's a community. I went to an Encounter Weekend last year and immediately felt at home. I was welcomed in and got to meet new and current students based on my interested major. It made the idea of moving away from home easier because I knew that I would be surrounded by plenty of supportive friends and people to walk alongside me in my university journey.
Favourite LEVEL Drink: London Fog! The foam like a cappuccino, but without the caffeine and coffee breath.
What are your plans for after King's? I want to be a journalist! My ultimate goal is to bring integrity back into journalism. Nowadays the media is so corrupt and fake, viewers don't know which story is true and which isn't. It'd be nice for a change to have some respect and honesty within our news outlets, that way viewers see what REALLY should be heard. I want to impact others positively and have it change how people think about the world. However, the reason I chose to broaden my options with an English degree was to ensure I could go to King's and then to also keep open my opportunities with a very general degree in case journalism doesn't work out.
Favourite course so far? I haven't taken too many courses yet, but I would definitely have to say Intro to Philosophy with Professor DeRoo. The course encourages you to get thinking about the meaning of your existence and what it is that you believe, as a Christian or non-Christian, about that existence. As a Christian I find it a challenge to my faith that encourages me to seek answers to deep questions. I grow and learn from all perspectives, affirming my belief in a God that is higher than I.
Favourite movie/tv show: The Good Place and Grey's Anatomy have definitely been getting me through these past couple of weeks! Some nights my friends and I just designate a time to take a break from school work and buckle down with ice cream and some good ol' mind numbing tv watching. It's quite a stress reliever to laugh and cry with friends over some silly fictional life.
Advice for New King's Students: I would say don't overthink the process! University is an experience that has its ups and downs. You may drop and add courses, you may have conflicting schedules, or you may even switch your major at any point. Whatever you go through in your university experience, remember that these four years will most likely change your life and your character, so try to go along with the flow. God's got you right where you're supposed to be! Remember, King's has plenty of support personnel designated to walk with you in your university experience, so take advantage of the help.
Favourite Spot on Campus: I have a couple favourite spots on campus. One of which is, of course, the LEVEL common area. It's a perfect place to congregate with friends while doing homework or somewhere to just hang out while drinking some London fogs. OR there is the second-floor level above the atrium. The couches and chairs there are a quiet place to buckle down and get some work completed!
Hobbies/Interests: As a classic English major, it probably comes as no surprise to say I love to read and write. Poetry has always been a hobby of mine and (if I do say so myself), I think it's my best sleight of hand. Reading is one of my common relaxing pass times, if we were to casually mention the piles of mystery and horror novels I have in my closet back home! Mostly, however, I love to spend time outside in God's creation. So, if you ever want to go hiking or just go out for a walk, let me know!
Thanks for sharing with us, Shaylyn!
If you want to be featured as one of our King's Stories, you can apply here.
Happy Studying!
Emily