Back to Blog
The Perfect Chili Recipe for a Chilly Day
Nov 12, 2019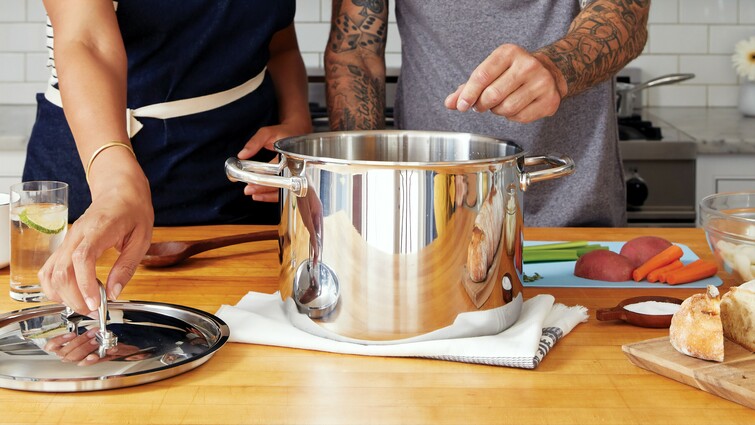 The days are getting colder, and the second round of midterms is upon us. In times like this I'm always looking for an easy, yet healthy meal that will warm me up! And what's better for a chilly day then a hearty bowl of chili?! This recipe is full of fiber and protein, and is 100% plant-based!
The ingredients you will need are:
3 cloves Garlic
1 Small Yellow Onion, diced
2 Green Bell Peppers, diced
3 ribs Celery, diced
3 small Carrots, sliced
¼ cup Ancho Chili Powder
1 tbsp Cumin
1 tsp Dried Oregano
½ tsp Cayenne Pepper (Optional)
2 15 oz cans Red Kidney Beans, drained
2 15 oz cans Pinto Beans, drained
2 28 oz cans Crushed Tomatoes
1 cup Water
Salt and Black Pepper, to taste
To begin, add the onion, celery, and green pepper to a large pot over medium-high heat with ⅓ cup of water. Cook until all the water evaporates, stirring occasionally. When all liquid is evaporated and the vegetables start to turn golden brown, deglaze the pot with an additional ¼ cup of water. This process should take around 10 minutes total.
Add the garlic, spices, and carrots to the pot, then sauté for a few minutes, adding a small splash of water if things start to stick.
Finally, add the drained beans, crushed tomatoes, and 1 cup of filtered water to the pot. Bring everything to a boil over high heat, then reduce the heat to a simmer, cover, and cook for 10 minutes. Remove the lid from the pot and cook uncovered for 5-7 additional minutes, until the carrots are tender and the chili reaches your desired thickness. Stir this mixture occasionally, to make sure nothing sticks to the bottom of the pot. Serve warm, and top as desired (green onions, nutritional yeast, vegan sour cream).
All it takes is 30 minutes to make this easy vegan chili, and it is the perfect cozy meal for a chilly day!
Enjoy!
Kaleigh