Back to Blog
The Ultimate Gingerbread House Tips & Inspiration
Dec 11, 2018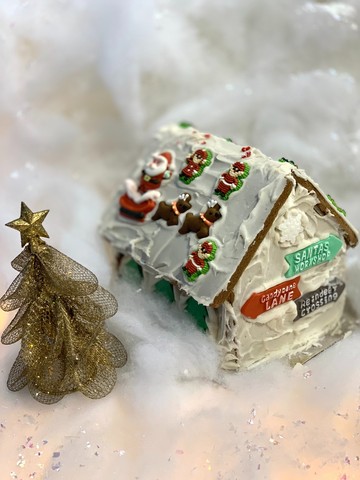 Hi friends!
Happy December! Or should I say happy almost Christmas! What better way to start getting into the holiday spirit than to start building Gingerbread houses? Mark your calendars because tomorrow, December 12, officially marks a super fun holiday: Gingerbread House Day! In this blog, you'll get some tips and some inspiration to help you build the most awesome gingerbread house you'll ever make!
Tips
Tip #1: Icing
Sometimes icing can be very tricky. When assembling your gingerbread house, the easiest way to stand your house up on the platform is to pipe a thick layer of icing in the shape of the letter L. Make sure you do this on the platform, not the actual gingerbread. Then you can start putting two sides of the house together, do the same for the other side, and voila!
Tip #2: Separate your candies
If you are decorating with a large group, sometimes it can get a little messy and the candy can start rolling on the floor for your pet to eat! So instead, take out a cupcake pan and fill each slot with different kinds of candy so that the candy can stay put and it will be easier to clean up. Especially sprinkles!
Tip #3: Utensils
If you are really specific about detail, grab certain utensils to help you arrange the candy! Use utensils like small tweezers, scissors and a knife.
Inspiration
Inspo #1: Gingerbread Nativity Scene
Make a gingerbread house using the theme of the Nativity! You can make a nativity scene and a gingerbread house all in one which is perfect for Christmas.
Inspo #2: Snow Globe Gingerbread House
Looking for something unique to do? Make a gingerbread snow globe! You would definitely be the winner if you were to enter this into a contest!
Inspo #3: Pretzel Cabin
Try making a gingerbread house from scratch! Instead of using the typical panels for a gingerbread house, try using pretzels for a unique look.
There's nothing I love more than to build a gingerbread house with the people I love. So grab a buddy, some friends, or even your family, and take a shopping trip to your nearest Walmart, Shoppers, Superstore, or Costco to go on the ultimate hunt for the best gingerbread making supplies! If any of you are trying this, be sure to send some pictures to our direct message on Instagram @thekingsu or send pictures to our snapchat @thekingsu!
Happy building!
Bianca