Back to Blog
Why I am so Thankful for King's - Grad Testimony
May 05, 2017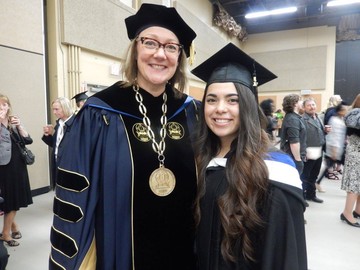 Hey King's Community!
I have had the pleasure of being a part of the King's community for the last four years, but as of April 29, 2017, I am officially a King's graduate! The King's Spring Convocation took place on April 29th, with over 120 students walking the stage. To be completely honest, it still has not sunk in that I am now an alumna of King's. The last four years have been absolutely incredible and I wouldn't trade them in for anything. My King's experience has been some of the best years of my life, as well as some of the most stressful years of my life, but there is no university that I would have rather gone to get my Bachelor degree. There are so many reasons why I am thankful to have graduated from King's; but here are a few in particular that stand out the most to me.
Being a Liberal Arts Institution
King's is a liberal arts institution, and so as a student you are required to take courses in other disciplines. When I first came to King's, I had not realized this was the case, but now that I'm graduated, I have really appreciated that I had to take other courses other than from my program. I know that there are students who do not like the fact that they have to take other courses in different disciplines, but for me personally, I really enjoyed them. It made me realize that there are certain things that you can apply to more than one discipline. Some of my favourite courses ended up being courses that weren't even a part of the Psychology program. (I strongly recommend taking Geography 201 or Theology 371).
Finding my passion within my program
I am so incredibly thankful that I found my passion while I was a student at King's. When applying to King's, I knew I wanted to go into Psychology, but I didn't really have a clue as to what I would use my degree for. It was not until my third year into my degree during my capstone course in winter semester that I found what I have a passion for. As a third year in the Psychology program, you are required to take this course called "Contemporary Issues in Psychology," and in this course you have to write a literature review (it is preparation for your senior research project if you do a four year degree in Psychology). I ended up picking my topic in Linguistics and now I am continuing my education in a field that I absolutely fell in love with. You're hopefully looking at a future Speech Language Pathologist! I am so grateful that I was given an opportunity to explore different areas within my degree so that I could discover my passion.
Having my faith challenged in a way that has strengthened my beliefs
When I started at King's, I thought I had a pretty solid foundation in which my faith stood upon, but boy was I wrong. Throughout my four years at King's, my faith has been challenged in the best possible ways! I have been able to affirm my beliefs and expand my understanding of my own faith. I have had my faith challenged in courses I have taken, as well as from conversations I have had with professors, staff members and fellow classmates during my time at King's. It is so incredible to see and know that you can have these deep, meaningful conversations with others, even if their beliefs aren't necessarily the same as yours. I have come to know God in such an intimate way that I have been able to strengthen my relationship with him. I've been tested and affirmed in my beliefs, and I am so absolutely grateful for that. Within the past four years, I have grown to be someone that I am proud to show to the rest of the world.
I have met some of the best people while at King's. Some of which I know I will stay friends with long after leaving King's
Honestly, if it wasn't for the friends I have made at King's, I do not know how I would have survived these past four years! When I was coming to King's, I knew of two other students who came from my high school, but I did not really talk to them. So essentially, I came to King's not knowing anyone and I was absolutely terrified! However, it was super easy to meet new people and by the end of my first two weeks, I had a group of friends that even now I still talk to.  The further I went into my degree, the more people I had the chance to befriend. Now that I have graduated from King's and a lot of my friends are going their separate ways, I know that we will still be friends, even in different parts of the world. 
Being able to take part in so many extracurricular activities and becoming a leader within the community (finding my own voice)
This is probably one of the biggest things that I am so thankful for. I have always been the type of person that likes to be heavily involved in my community and King's is definitely no exception. Right from my first year I was given so many opportunities to become involved on campus. Being a part of the Ambassador program for 3 years, helping to organize and run New Student Orientation for 3 years, volunteering through King's, and the numerous amount of jobs I have got at King's, has all led to me finding my own voice. From working in the Admissions office, to student life, to being a TA in Psychology, I have been blessed with so many opportunities to contribute to my King's community. I have been able to become a leader within my community and have learned so many incredible life skills that I know will transfer over to the rest of my life.
All the best!
Monica