Back to Blog
You Know You're a Commuter When...
Apr 28, 2017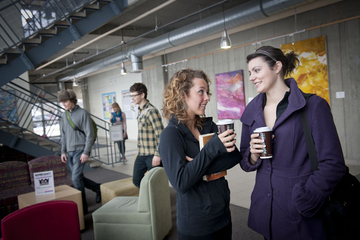 As someone who has lived on campus for two years, and commuted for two years, I can tell you that there are definitely pros and cons to both options. What I love most about commuting is that my time on-campus is much more purposeful; instead of going back to my room and napping between classes, I can get homework done, catch up with friends, or even put in a few hours at an on-campus job (which is a great way to earn a little extra cash - I would highly recommend this if it fits in your schedule!). But for all the great things about commuting, there are also some challenges that go along with it. Here is my list of "commuter things" that you will experience at King's! (and my tips on how to get the most out of being a commuter at King's).
You know you're a commuter when…
…You register for classes ASAP to make sure that you get your carefully planned schedule exactly like you wanted.
When you don't have a home base on campus, it is important to plan out your schedule to make the most of your day. For some people, this means trying to get courses that are back to back to cut out time spent waiting between classes. For others, this means planning out long enough breaks between classes to make sure that you have chunks of time to do homework, work, or even just hang out with friends. If planning out your schedule is overwhelming, don't worry! Here at King's there are lots of people to help – for incoming first-year students the admissions counsellors are the people to talk with, and once you become a student you will have a faculty supervisor who will then be your go-to for all questions about courses.
…Your morning drive, bus ride, or whatever you use to get to school, is the biggest inconvenience ever.
This is clearly the biggest downside to being a commuter – you have to leave yourself enough time to get to your classes, especially in the winter! Some people find it frustrating because transit time takes away from precious time that you could be using to be productive. BUT… here's how you can make the most of this time – find audiobooks! Download audio books of your required readings to turn boring travel time into productive homework time.
…You pick out the perfect locker to become your new home away from home.
Having a locker is HUGELY helpful when you are commuting. Especially in the winter when you are hauling your parka and boots around, it is great to have a place to leave your boots, coat, textbooks, and whatever else so that you don't have to carry everything that you need around all day. What's great about the lockers at King's is that you can pick out your own! You simply go online to your student services account and select from available lockers to pick the one for you – this lets you pick one close to where most of your classes are, or in whatever part of the school that is most convenient for you!
…You always know when there is going to be free food on campus.
And, lucky you, there's free food on campus often. While it does take some effort to get up on time to have a decent breakfast and pack a lunch, you are always on top of the days where you can get a few extra zzz's because you can get breakfast, snacks, or dinner for free. One of my favourite things about the commuter program is that they get this, so most of their events revolve around bringing free food to the commuters of King's!
…Parking is not a concern for you at King's.
You probably heard horror stories about how expensive it can be to drive to university because of the parking costs, but – lucky for you – parking at King's is free! With all the other things that you have to think about as a university student, it is great that something as simple as parking does not need to be one of those things – there is an abundance of parking at King's between the rear parking lots and the side streets around King's.
…You have "your spot" somewhere on campus.
You know what I'm taking about – that place that is your go to – whenever you have a break or need to chill somewhere for a little bit, this place is where you can always be found. Pro tip: pick out a spot in the North Academic Building. With all the couches and comfy chairs spread out around it, this is one of the best places to make your home. And it is the perfect amount of quiet for if you need to do homework and focus, but not so quiet that you feel like you can't chat with your friends either.
…The trunk of your car (or backseat) is always fully stocked with anything and everything you could possibly need.
I can't even tell you how or when this happens; I think it's a gradual accumulation process. But, slowly, you will build up a stockpile of all the things that could possibly come in handy as a student – from changes of clothes for those last minute sleepovers with your friends in residence, gym clothes (because the Workout Centre is FREE), random snacks and who knows what else, it's great to be prepared for whatever the day might bring! Or, what the weather might do…
…You know all about the commuter program.
The goal of the commuter program is to give commuter students a way to get connected on campus and to get to know other students. The commuter program team organizes different events and activities – some that are regularly occurring, and some that are one-time events. Some of my favourites are the commuter breakfast (1st Wednesday of every month), Last Day Lounge (every Friday at noon), and the many coffee drop-ins that took place throughout the year.
Whether you are a commuter student or living in residence, King's is a great place to be – the community that you will build as a student here is something that you will remember and appreciate forever.
Cheers,
Tara