Off-Campus Studies
There's no better way to learn about the environment then by spending time exploring it. Field learning and off-campus studies play an important role in the Environmental Studies program at King's and make this program unique.
Through visits to national parks, natural resource sites, and unique geographical features, there are great opportunities to explore the relationship between humankind and the biosphere. Students will discover the incredible work being accomplished by those working in environmental careers and the important work that has yet to be started.
Field trip opportunities: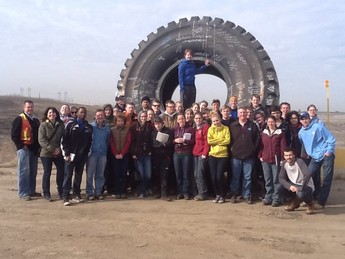 Alberta Oil Sands and Al-Pac Pulpmill
Environmental Impact Assessment and Environmental Chemistry
Every other year, students and professors embark on a two-day trip to Northern Alberta. This trip includes stops at Alberta-Pacific Forest Industries Inc. (Al-Pac) pulp mill with topics on sustainable forest management and the Oil Sands Discovery Centre to learn more about the techniques of in situ and open pit mining and its history in Alberta.
The group then visits Syncrude Canada Ltd, observing their operations of extraction and its impacts on the surrounding environment. The group tours the infrastructure and watches open pit mining from a vantage point. They witness the magnitude of Syncrudes' operations, the vast expanse of the barren landscape resulting from open pit mining, and natural fen and wetland reclamation efforts.


---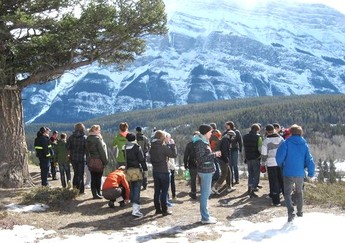 Bow Valley - Canmore and Banff ENVS Field Studies
Conservation Biology and Environmental Resource Management
Students travel on a two-day educational field trip to Canmore and Banff every other year. The purpose of the field trip is to examine interactions between human settlement and wild spaces and how these interactions are managed in the Bow River Valley system. Learn about the integral role threatened species, like the Limber Pine and the Banff Springs Snail, play in the ecosystem. Discover the important part controlled burns play in reversing the effects of approximately 200 years' of forest fire suppression in Banff National Park and how tools like Geographic Information Technology (GIS), Environmental Impact Assessment (EIA), and adaptive management are used in the real world.


---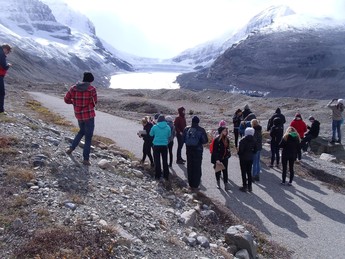 Columbia Icefields
Physical Geography
Providing a great start to a fall semester, the Columbia Ice Fields and overnight in Jasper is favourite. The trip is a highlight of the course taught by Professor Spaling. The first stop looks at a glacier erratic in Rocky Mountain House (a piece of rock different from the size and type of rock native to the area); next, onwards to the Kootenay Plains and Mt. Mitchener, a lengthy stop at the beautiful Maligne Canyon, and finally a stop at the Miette hot springs.
---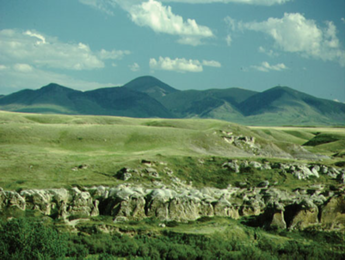 Cypress Hills
Ecology
Travel to the Porcupine Hills and learn to distinguish plant, mammal, bird, and crop species as well as the varying abiotic factors of each eco-region. Learn about historical glaciation and how it formed the topography of southern Alberta. Stop at Slack Slough for waterfowl identification and a discussion about wetland conservation. Participate in field activities such as moose and elk calling, squirrel midden counts, and insect collection and identification. On the trip home, pass by Oldman Dam and discuss the potential effects damming has on downstream riparian zones and migration corridors. The last stop is Head Smashed In Buffalo Jump where students explore and ponder how humans affect animal populations and their surrounding environment. 
---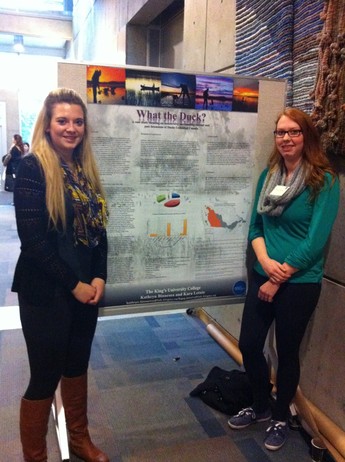 Annual Geographers Conference
All ENVS students

Every spring, King's participates in the Western Division of the Canadian Association of Geographers (WD-CAG) meeting, held in various places throughout western Canada, including Victoria, Kamloops, Lethbridge, and Prince George. Students prepare their abstract and posters according to the topic of the conference and with the support of ENVS professors. Our students have won best undergraduate poster in the events competition for three years in a row. This event is a great venue for students to present their research to scholars, geographers, and fellow students from western Canada. Geographic scholarship in Western Canada and the Northwestern USA is more relevant than ever as the region confronts major environmental, political, and economic change and uncertainty.
A partial list of research areas include measuring and modelling climate change, informing local and regional adaptation and mitigation efforts, considering the feasibility of various options for carbon reduction, designing sustainable cities, and more.