Off-Campus Studies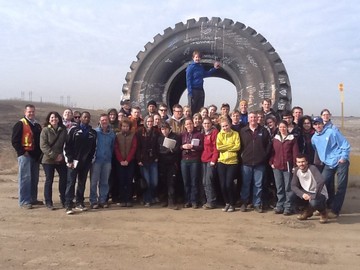 Alberta Oil Sands and Al-Pac Pulpmill Field Studies
Every other year, students and professors from the Environmental Impact Assessment and Environmental Chemistry classes embark on a two-day trip to Northern Alberta. Their initial stop is at the Alberta-Pacific Forest Industries Inc. (Al-Pac) pulp mill which teaches techniques Al-Pac pursues to follow sustainable forest management. These techniques range from recycling inputs, generating their own energy, to the intricacies of harvesting trees. After the tour of the mill and trekking around a plot of regrown forest, the group heads to Fort McMurray where they tour the Oil Sands Interpretive Centre to learn more about the techniques of in situ and open pit mining and its history within Alberta.
The group then visits Syncrude Canada Ltd, observing their operations of extraction and its impacts on the surrounding environment. The group tours the infrastructure and witnesses open pit mining from a vantage point. They witness the magnitude of Syncrudes' operations and the vast expanse of the barren landscape from open pit mining. Discussion is encouraged about soft tailings ponds and the reclamation efforts currently underway towards conversion to natural fen or wetlands. Outside of the soft tailings area, the group examined a piece of land that has been certified as reclaimed. This trip is beneficial in viewing Syncrudes' oil sands and the largest single line pulp mill in North America from different perspectives.    M.J. Valiquette - ENVS student
Au Sable Institute of Environmental Studies
The King's University is a participating university in the Au Sable Institute, a field station offering college-level courses, particularly in different aspects of field biology. The institute has two campus facilities - Great Lakes Campus in the north woods of Michigan's Lower Peninsula, and at Smith Prairie on Whidbey Island, north of Seattle, Washington. It also runs programs in tropical biology in Florida, east Africa, and south India. The Institute offers courses from mid-May through mid-August each year. Students may register for Au Sable courses through the University at a tuition rate of $1,100 (CDN) per course. Room and board fees for the Institute amount to approximately $185 per week. Students interested in the program should see the entries for the program and limitations under Au Sable Institute in the King's Calendar.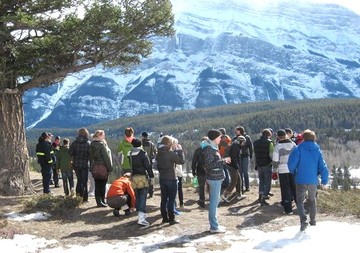 Bow Valley - Canmore and Banff ENVS Field Studies
Conservation Biology and Environmental Resource Management students travel on a two-day educational field trip to Canmore and Banff every other year. The purpose of the field trip is to examine interactions between human settlement and wild spaces, and how these interactions are managed in the Bow River Valley system. Students first meet with planning and development employees from the Town of Canmore and Town of Banff and are informed about the various land-use strategies and challenges within each town. Surrounded by wilderness, students and faculty learn about the integral role threatened species, like the Limber Pine and the Banff Springs Snail, play in the ecosystem. Maintaining ecological integrity is Parks Canada's main goal in Banff National Park.  Parks Canada employees spoke to students about the important role controlled burns play in reversing the effects of approximately 200 years' of forest fire suppression in the Park. Participating in this field trip gave students the opportunity to learn how tools like Geographic Information Technology (GIS), Environmental Impact Assessment (EIA), and adaptive management can be used in the real world.    Bettina Breau - ENVS student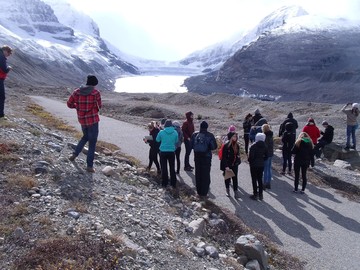 Columbia Icefields Field Study
Providing a great start to a fall semester, the Physical Geography class goes on its' much loved field study to the Columbia Ice Fields and overnight in Jasper. The trip is a highlight of the course taught by Professor Spaling. The first stop looks at a glacier erratic in Rocky Mountain House; next, onwards to the Kootenay Plains and Mt. Mitchener, and finally a lengthy stop at Maligne Canyon. Each stop includes a brief lecture on various geological processes. The first day ends with a hike to the magnificent Columbia Ice Fields. The students witness the dramatic decrease in the size of the glacier, marked by signposts of each decade. Seeing the receding glacier first-hand  causes many discussions about the state of our local rivers and the future of our water supply. The Columbia Ice Fields provides a visual representation that not all geographical changes are slow, and that climate change has extreme consequences.
The visit to a hanging glacier is a first for most of us to witness and a perfect spot for the morning devotion. Stopping at Miette hot springs for a brief hike and interpretive talk about the area and then a quick soak in the hot-springs is a great way to end the field trip. The field trip is a refreshing break from in-class lectures, and a perfect opportunity to see first-hand the spectacular physical geography in our own province.     Samantha Flasha - ENVS student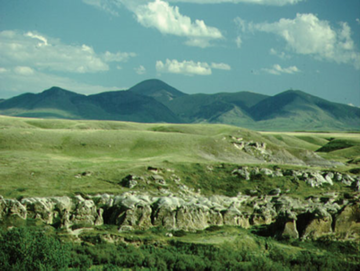 Cypress Hills field study
King's Ecology class, including many Environmental Studies students, travel to the Porcupine Hills area in September with several faculty members from the Biology Department. The field study trip includes stops at several of Alberta's natural regions and sub-regions where students learn to identify distinguishing plant, mammal, bird, and crop species as well as the varying abiotic factors of each eco-region. They discuss historical glaciation and how it formed the topography of southern Alberta. The Porcupine Hills field study gives students a solid understanding of how and why species distribution changes over time and space, being a major theme of ecology.
The drive to Porcupine Hills includes a stop at Slack Slough for waterfowl identification and a discussion about Ducks Unlimited wetland conservation. A quick stop in Okotoks gives way for a conversation about polymorphism and genetic variability in the cottonwood and grey squirrel and how they adapt to varying environmental conditions. At Porcupine Hills, the students participate in field activities such as moose and elk calling, squirrel midden counts, and insect collection and identification. The students learn about Dr. Peters' study on endangered limber pine and assist him in collecting data. On the trip home, the group passes by Oldman Dam and discusses the potential effects damming has on downstream riparian zones and migration corridors. The last stop is Head Smashed In Buffalo Jump where students explore and ponder how humans affect animal populations and their surrounding environment.   Trisha Densley—ENVS student
 
Annual Geographers Conference
Every spring we invite our students to participate in the annual Western Division of the Canadian Association of Geographers (WD-CAG) meeting, held in various places in western Canada, including Victoria, Kamloops, Lethbridge, and Prince George (2016). Students prepare their abstract and posters according to the topic of the conference with the support of the ENVS faculty. They have an opportunity to speak to the attendees about their research while their poster is on display. Our students have won best undergraduate poster in the events competition for three years in a row. This event is a great venue for students to present their research to scholars, geographers, and fellow students from western Canada.
Geographic scholarship in Western Canada and the Northwestern USA is more relevant than ever as the region confronts major environmental, political, and economic change and uncertainty. Imagining everyday life in the future entails making sense of past and present decisions about environment, resources, culture and society, and thinking critically about those factors most likely to influence future trajectories of environment, culture, and society. Geographic scholarship is at the centre of issues connecting historical, contemporary, and future processes.
A partial list of research areas include measuring and modelling climate change, informing local and regional adaptation and mitigation efforts, considering the feasibility of various options for carbon reduction, designing sustainable cities, working with Indigenous groups to document land claims and traditional ecological knowledge, informing land and resource conservation efforts, measuring and underscoring considerations of social equity, and exploring and testing new modes of environmental governance.