Why Psychology at King's?
"A question to myself have I become!" - Augustine
Gain insight into the intriguing question: what is the human self? Psychology, whether as theory or practice, is put into historical and cultural context while engaging assumptions about human nature and what this means in the modern world and in relation to Christian faith.
Small class sizes give professors more time for one-on-one instruction to guide students to use and evaluate psychological research. You will practically apply psychology through volunteering, lab exercises, and field trips. Students interested in field research can conduct their own projects under the supervision of a professor as part of King's Community Engaged Research program.
"My Psychology degree at King's gave me the incredible opportunity to explore my passions and interests within an academic setting, as well as encouraged me to apply it to the world around me. Instead of simply conveying knowledge of the world, King's taught the importance of understanding and challenging our worldview."
-Rebecca Dahl, Alumna (2013)
Join the club
The psychology club creates opportunities to gain experience in events outside of the classroom:
annual career fair.
guest speakers and workshops (e.g. art therapy, occupational therapy, and graduate school).
partnering with the Students' Association for Mental Health Awareness Week.
psychology related field trips. 
King's Psychology professors and staff are committed to:
Providing understanding of the principles and development of human perception and development.
Examining how society impacts individual and community functioning.
Introducing students to research methods and giving opportunities for student research.
Helping students discover how to use psychology to make a difference in the world and how they can make a difference in psychology. 
Examining human assumptions and how they affect thoughts and behaviour.
Challenging students to ask good, hard questions connecting their learning to their passions and gifts.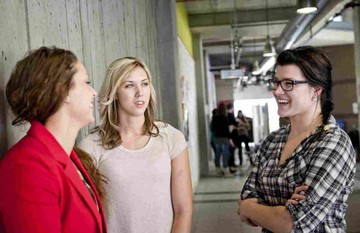 Psychology from a Christian perspective
You will develop a Christian approach to psychology based on a view of humanity that is scripturally directed and theoretically articulated. Your professors will help you develop this approach as you learn to evaluate major trends in psychological thought; benefit from significant contributions by non-Christian psychologists; and derive insight from alternative Christian approaches to psychology.