Back to Blog
Dr. Caroline Lieffers awarded King's Early Achievement in Teaching Excellence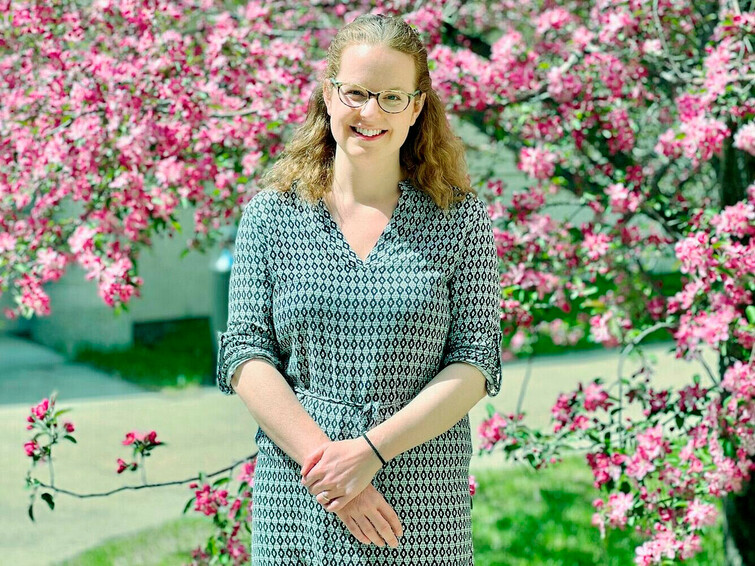 Her empathy, ability to include all voices in the room, hybrid teaching model of lecture and discussion, and innovative history courses are only a few of the reasons why Dr. Caroline Lieffers, assistant professor of history at The King's University, is the recipient of this year's award for Early Achievement in Teaching Excellence.
Awarded every other year, Early Achievement seeks to recognize outstanding achievement in the classroom by faculty members with full faculty status who have no more than seven years of post-secondary teaching experience,
Lieffers has been teaching at King's for three years and her student reviews are inundated with praise for her teaching style, approachability, passion for history, and willingness to find the answers to questions she doesn't know.
"One of the most powerful testimonies of the strength of her teaching is how often in her class you see participation from peers who you never hear from in other classes. Her classes are a safe and inclusive environment where many students can find their voices," one of her students, name withheld for privacy, says.


Specializing in nineteenth and twentieth-century social and cultural history, Lieffers' current research examines the history of disability and American imperialism, and she also hosts a podcast series for the Disability History Association. She teaches classes on social and cultural history, the history of health and medicine, and US and global history, and is also available to work with students on independent research and oral history projects.  
Some of King's most viewed public lectures on YouTube are hers. She opened the public lecture series in 2020 with a history of pandemics, and in 2021 gave a lecture on the history of gender and sexuality with regard to women and girls. 
Lieffers has played a central role in restructuring and renewing the history curriculum by contributing a number of new and popular courses which have served to move the curriculum into new and exciting areas.
"Two of my most innovative courses—particularly for a Christian university setting—are HIST332: History of Gender and Sexuality, and HIST399J: Histories of Health, Disability, and Racial Justice," Lieffers says. "Both courses emerged in response to students expressing their eagerness to learn more about these topics. I wanted to do what I could to help provide the kind of education that would prepare our graduates for lives of compassionate, faithful, and hope-filled service in the world."
Lieffers has also developed her own version of HIST 300: Historical Methods, in the words of Dean of Arts Dr. William Van Arragon, "King's  'gateway' course for History majors", making sure to include field trips and exercises that train students in disciplinary research protocols and practices such as trips to the City of Edmonton Artifacts Centre and the Provincial Archives of Alberta.
She has published one and is currently working on another book based on her PhD dissertation (Yale University, 2020). The first examines disability on the Panama Canal, and the second looks at physical, cultural, and spiritual disability in the history of the Umoⁿhoⁿ Nation. She is also interested in questions of historical practice and methodology, such as how to write history that is accessible and inclusive, and how to use history to make change in the world. She is working with fellow history professors Drs. Mark Sandle and Van Arragon on developing a book manuscript about history and hope. Hope shines through in her work.
"Through my work with our students, I have come to believe strongly that the discipline of history can nurture the fruit of the Spirit. Historians have to be careful not to leap to simple conclusions and risk misrepresenting or even damaging the stories of our neighbours past."