Back to Blog
King's Best On-Campus Study Spots
May 13, 2016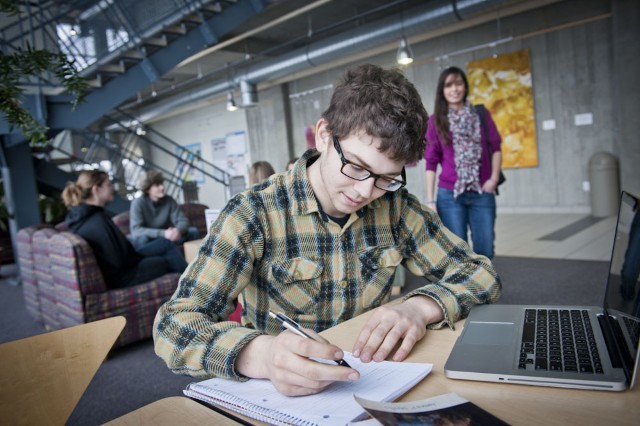 Hey King's Students!
Nothing works better in helping you get through those assignments and studying for finals than finding the perfect study spot. On King's campus, there are tons of places where students can get away to get some studying done. If you're like me, you make like to switch up the locale depending if you want study spot that's out in the open so you can study with a group of friends, or a silent oasis  so you can be alone with your own thoughts. Here's my list of some of the best places on campus that are great for studying!
The Library
The Library is a great place for studying both individually and with friends. There are individual study carrels where students can do silent studying, as well as group study carrels, used for group projects and studying. There are also loads of tables placed throughout the Library for groups of people to study at as well. If you want a quiet place to study on campus, the Library is the place to go to.
The Level Coffee House
If you're looking for an open space to study that is has a more relaxed atmosphere, The Level Coffee House is a great place to study. With tons of tables and seating areas, there are loads of spaces available for students to study and your studying wouldn't be complete without a coffee from the Level. This is a good place to come if you like a consistent hum around you and if you're open to friends easily finding you and joining your study session. Plus during final exams, the Level Coffee House is open after building hours for students to do some quiet studying, so whether you are a resident student or a commuter student, the Level is a place that is available for students.
701 Study Lounge
For students who live in the Tower Residence,701 Study Lounge is another option available for a place to study on campus, especially since it's open 24/7! If your roommate wants to hit the hay early and you need to stay up all night writing that end of them paper, the 701 Study Lounge is a great option close to home! Not to mention it has a beautiful view of Downtown Edmonton, easy access to printing, and ergonomic chairs, this Lounge is great for quiet study.
The Dining Hall
There are some students who really enjoy studying while they eat, so the Dining Hall is the place for them. There are places in the Dining Hall that allow students to be social during meals, but there are also areas that allow students to get some work and studying in. If you like to have some background noise while you study, the Dining Hall is a good place for you.
The North Academic Building
The last study spot that I am going to mention is the North Academic Building (aka the NAB). This building is where students have that vast majority of their classes, so whether you are waiting for a class or you want to study in a beautiful part of campus with lots of natural sunlight, the NAB accommodates students who want to socialize and work in groups, or those who want individual, quiet studying. Personally, the NAB is my favourite place to study and socialize with friends because of all of the natural light!
These are not the only places to study on campus, but are some of the more popular places that students like to get things done. So whether you are the type of person who wants to study in a quiet place or where you can hang out with others, make sure to find a place that works best for you and your study habits. 
All the best!