Back to Blog
Get Paid Doing Summer Research!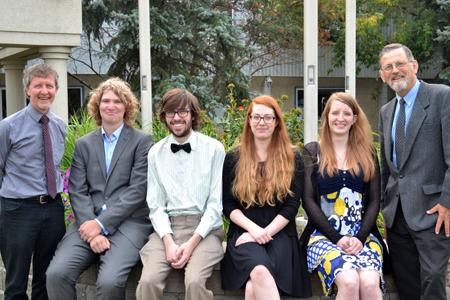 Hey King's!
As you may know, King's has a number of different research opportunities for students throughout the summer! These opportunities vary across all academic disciplines, but there's quite a few available in Biology, Chemistry and Computing Science students. You can work full-time in the summer months, one-on-one with a King's professor doing university-level research and getting paid for it! Not to mention it looks great on a resume.
Today I will be highlighting Ty De Boon, a 4th year Computing Science student, and what it's like to do research for The King's Centre for Visualization in Science (KCVS). Check out what he had to say!
What is your current degree?
"I am taking a Bachelor of Science in Computing Science."
What is your job? What do you do?
"I am a web developer and consultant for KCVS. I work with the KCVS team to create Digital Learning Objects to explain different scientific principles across multiple disciplines."
What are you working on this summer? Is this your first time working in this position?
"This summer we have 2 major projects. The first is with ACS (American Chemical Society) where we create learning objects to go along with the 9th edition of the Chemistry In Context textbook. The second is with IUPAC (International Union of Pure and Applied Chemistry) to create learning objects to teach students and educators about isotopes and the new Isotopic Periodic Table. I've been working with KCVS for three summers."
What is your favourite thing about this job?
"Working together with students from other disciplines and the collaborative effort that's involved. We have 2 Computing Science and 2 Chemistry students working at the moment. KCVS has had students from many different disciplines in the past."
What is your least favorite thing about this job?
"Version control – our learning objects are located in many different places and to keep them up to date you have to refine and manage all the different copies of the same object."
Would you recommend other students to apply?
"Yeah! There is a great team atmosphere, everyone gets along. Dr. Martin and Dr. Mahaffy are great to work with and for. It's a fun and challenging job."
Do you know of other KCVS projects being worked on?
"There are no other big ones we are working on now, but there is still maintenance of older projects. For example, the Grade 5 Learning Objects – they are resources to help explain chemical modelling to students in elementary school. These learning objects are interactive websites that teach students about different atomic models and chemical reactions."
So do you think job will be useful in developing your skills for a future career?
"The job is very helpful! I have learned a lot about web development and visualization. Both will be helpful moving forward into my career."
Well, that's all for now folks! I hope you've found this helpful and maybe even inspired you to get involved in future projects with your professors throughout the summer! If you're planning on going into Computing Science, this may be a summer job you will want to look into! They have plenty of summer positions for their students! As you've heard, getting involved in this is a great way to apply the skills you are learning in your degree as well as give you a taste of what it feels like to apply what you've learned in your degree to your work! Tune in next month for information about the Natural Science research taking place at King's this summer!
Cheers,