Back to Blog
#IChoseKings - International Student
Mar 03, 2017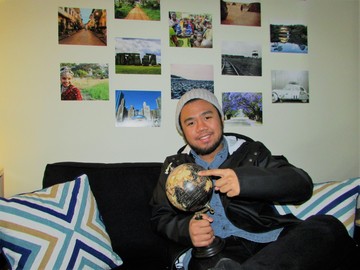 Hey there future students,
How crazy is that people from all distances, whether its a short car ride or a flight across the world, find their way to King's and come to call it home?! I'm originally from a Southern Ontario and while that's not exactly a hop and a skip away, I am by no means from the farthest locale. One of the things that I really love about King's is how welcoming the community is to students who are not Edmonton born and raised...or even Canadian for that matter. For my #IChoseKings blog I sat down with the one and only YJ Montalbo, 2nd year Politics-History-Economics student originally from the province of Batangas in the Philippines. Here's why YJ chose King's:
Why did you choose to study PHE at King's?
"I was actually a History major at first, but I wanted to tryout the intro Political Science class. The class was taught by Dr. Hiemstra and he was just such an amazing professor, I really connected with the course so I decided to make the switch into PHE." 

What's the advantage of coming to King's as an International student?
"King's has the cheapest tuition in Alberta for international students, which is a huge advantage. But the other thing is that there is an amazing intercultural program under Student Life that really helps you fit in and adjust to life in Canada. They basically are here to assist you in your transition and they become your sense of community. Plus, King's is in Canada, and Canada is really multicultural, which is one of the reasons why I really love Canada."
How was the admission process?
"What really helped me get through the admission process was that I had an amazing Admissions Counsellor. He answered all my calls even though I was really annoying and calling all the time."
What advice do you have for international students applying to King's?
"Apply early, you need enough time to get a study permit, and applying to King's as soon as you can will help. Don't be afraid to ask your questions, because the King's community is really helpful."
If you would require a study permit to attend a post-secondary institution in Canada and considering King's, you should chat with Kayla Friesen, our International Admissions Counsellor. We can't wait to meet you!
Stay Golden,
Marissa