Back to Blog
My Time at King's: Kena's Grad Reflection
Apr 20, 2021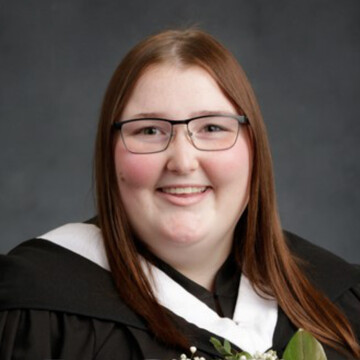 I cannot believe that within a week I will have completed my B.A in English and History! These past four years have flown by and I am beyond grateful that my university experience isn't over. In the fall I will be returning for the B.Ed after-degree in Secondary Education. Before I get overly excited about next year, I want to reflect on the highlights of these past years.
Getting involved on campus has got to be the biggest highlight of my time at King's. University was more than just academics for me; it was creating long-lasting friendships and exploring who I am as an individual. During these past years I have stepped out of my comfort zone and become more confident in myself. I was a part of the Ambassador program, worship teams, clubs, the Micah Centre, and the Admissions Department as a student worker. Immersing myself in these areas allowed me to understand my passion for social justice and gain relationships with people who will be in my life for a long time.
Exploring a variety of topics through the interdisciplinary lens that King's offers as a liberal arts university has been another huge highlight. My first year I entered as a voice major in the B.A Music program. I am now leaving with an entirely different degree. Through my first-year courses I learned that I do like English literature and History (I did not like them in high school!). I also found a passion for social justice through my courses and the clubs I participated in. Through my time at the Micah Centre I have absorbed Micah 6:8: "Do Justice, Love Mercy, Walk Humbly" into my daily thoughts and actions. I participated in the first round of the Justice Fellowship, the Honduras Water Project, Quest Mexico, and I'm one course away from obtaining the Micah Certificate in Justice and Development.
My last major highlight is all the learning experiences I got to participate in through travelling. Each year I got to travel somewhere for a course or club, except for this last year due to COVID-19. These opportunities were amazing, and I learned a lot from them. In my first year I participated in the international choir tour to The Netherlands. During my time there I also spent a little time in Germany and Belgium. We got to learn about the county and sing in many beautiful churches. In my second year, I travelled to Ottawa through the Micah Centre to attend an MCC conference during reading week, Banff with the ENVS club for the Mountain Film Festival, Calgary for the Marda Loop Justice Film Festival with the MASS club, and to Honduras to participate in the Honduras Water Project. Lastly, in my third year I got to participate in Quest Mexico for the Justice Fellowship program and was planning to return to Honduras until the pandemic hit.  All these opportunities to learn through travel were made possible through getting involved on-campus and finding out what my passions were.
If I could give any advice to a new student, I would say to get involved. Step out of your comfort zone, it is uncomfortable but worth it. I got much more from my university experience by doing this.
I am excited to return in the fall! See you all next year.
Take Care,
Kena