Why Study Biology at King's?
Students at King's work in close proximity to professors as they explore the origin, growth, reproduction, structure, function, and interrelationships of living organisms. As part of King's focus on bringing about a better world, students spend time learning to understand why connections between creation and human stewardship of matter is truly important.
Biology students have exciting opportunities for laboratory research at King's. Both in the university's own research facilities and conducting field research throughout the greater Edmonton area. The River Valley is just five minutes away from campus, while Elk Island National Park is just 30 minutes--these make for perfect and regular field research trips. 
Each fall, Biology faculty and students participate in a three-day excursion. Students become immersed in a community experience of seeing the world from a stewardship perspective.
"King's unpacked an interest in Conservation Biology that I didn't know I had. I got involved in field learning, and new organizations like the Pacific Rim campus of the Au Sable Institute, where I took a number of courses in Marine Biology. King's programs are very well recognized in the field and have helped me find new opportunities I wouldn't have had otherwise."

Dominic Wong
King's Biology professors and staff are committed to:
Providing opportunities for students to study God's creation while developing a stewardship perspective.
Providing undergraduate students a wide breadth of quality courses and laboratory opportunities that get students the educational experience they need for future careers and lives of service.
Teaching biology from a historical and theoretical perspective that emphasizes foundational and ethical commitments.
Providing opportunities for students to engage in research and scholarly discovery, modelling professional competence and community service.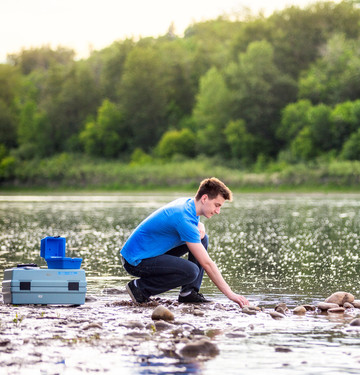 Biology from a Christian perspective
King's biology program ensures you graduate with a rich understanding of the discipline of Biology which you can take into new careers and graduate programs. Part of this means engaging with and understanding some of the central Christian perspectives surrounding this discipline. 
As a student, you'll spend some time completing reading and writing assignments that deal with faith and creation. Some of your classes will be opened with scripture reading and prayer.
King's Biology faculty are passionate about their practice, research, and the time they invest in designing courses that produce a top graduates. They place a strong emphasis on engaging spiritual questions raised in the discipline, and are always open to your questions, conversations, and ideas in course work.
We ask students to purchase and read selections from Biology Through the Eyes of Faith (R.T. Wright, 1989. Harper & Row Publishers) in their first year. Each course taught in the Biology program addresses a subset of these issues.