Environmental Studies at King's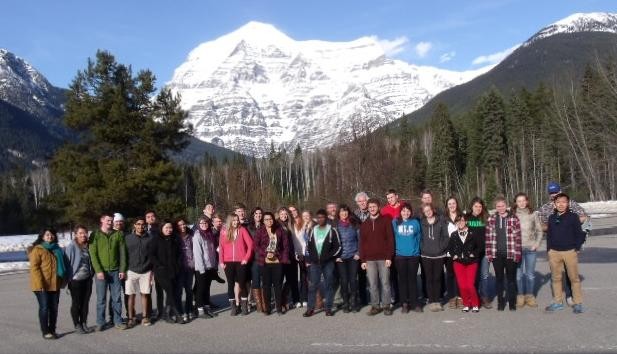 The Environmental Studies (ENVS) program combines a major in ENVS with a concentration in one area of three: Social Sciences (BA), the Humanities (BA), or the Natural Sciences (B.Sc.). Students concentrate their studies in one of the following areas: Biology, Business Administration, Chemistry, Computing Science, English, Philosophy, Politics and Economics, Psychology, Sociology, Social Sciences, or Theology. Interdisciplinary perspective and approaches are adopted in all ENVS courses and projects. This program includes a 13-week internship.
One unique element of our ENVS program is that we offer students a choice to study their ENVS coursework within an Arts(BA) degree or the Science (BSc) degree.
Learn practical environmental skills, including mapping and aerial photo interpretation, Geographical Information System (GIS), Environmental Impact Assessment (EIA), statistics, and other computer applications. Discover how the natural world works, and examine how humans interact and manage the environment, while developing an understanding of Christian stewardship.
Follow the link about our new ENVS Certificates.
Bachelor of Arts (B.A.) In Environmental Studies
Students select from 10 concentrations: Business Administration, English, History, Philosophy, Psychology, Social Science Group, Sociology, Economics and Politics, Theology, or Biology. These options appeal greatly to our students. These choices appeal to our students as they are able to flourish within the same degree, but focus their studies on their specific area of interest. Some careers offered to our BA grads are: environmental policy, journalism, law, education, tourism or business.
Bachelor of Science (B.Sc.) in Environmental Studies
Students can pair their ENVS coursework with Biology, Chemistry, or Computing Science concentrations. B.Sc. grads also have great opportunities in some of the following fields: forestry, impact assessments, fish and wildlife, parks and recreation, and conservation.
Whether our students take the B.A. or the B.Sc. in Environmental Studies, they have great opportunities for full-time work after graduation. Should grads pursue further study, there are lots of avenues they would qualify for, with full support from our faculty.


Accreditation
The Environmental Studies program at The King's University is accredited by the Province of Alberta through the Campus Alberta Quality Council. 
In addition, the BA and BSc in Environmental Studies have been granted national accreditation by the Canadian Environmental Accreditation Commission (CEAC), the certifying body of the Environmental Careers Organization (ECO) Canada. King's BA degree was the first university program in Canada to be awarded accreditation by CEAC. This level of accreditation allows students of King's Environmental Studies program the ability to pursue certification as an Environmental Professional (in training) or EPt.


Stay Informed
Follow us on Facebook and Instagram. Follow the links below to see our annual Fall and Spring newsletters that have stories about off-campus field trips, highlights from student summer work internships, faculty and alumni updates, environmental club updates, news, and other information on the ENVS program.