Why PHE at King's?
The Politics-History-Economics (PHE) major is well regarded nationally for producing exceptionally well-rounded and employable graduates. The program serves as a great 'stand-alone' degree and excellent preparation for professional programs such as law, public policy, and many others.
PHE combines the strength of a multidisciplinary major with plenty of depth. Students take courses in all three disciplines, and specific courses designed to bring the three disciplines together.
Politics brings an understanding of power relations in society, the ideologies, convictions, and institutions that shape them, and the role of government in pursuing public justice.
History cultivates an understanding of the origins of contemporary public issues. It explores the roots of civilizations, cultures, and the ideological and religious forces that shape our times.
Economics examines the powerful drive exerted on society by economic forces, and how economic policies can foster individual and collective stewardship of the resources given to us for the common good.
I chose King's specifically because of their PHE program. It offers a diverse, interconnected experience while providing Christian responses to world issues. Helping people is one of my passions.

Grace Fullerton (B.A. '18)
Optional internships and study abroad programs give students opportunities to gain professional skills, build their resumes, and expand their networks. As a result, many of our graduates immediately transition into careers in government, non-profit organizations, and business. The program is also excellent pre-professional preparation for further studies in law, education, and graduate studies. Students interested in PHE, particularly those looking to work in international development and non-profit employment, should consider pairing their Politics-History-Econonmics degree program with King's Micah Certificate in Justice and Development.
The program's flexibility and the courses allowed me to focus on development issues in Sub-Saharan Africa, which definitely came in handy when what I learned in class and in books came to life during a six-month internship with Canadian International Development Agency (CIDA) in The Gambia.

Lisa DeMoor (B.A. '06)
King's PHE professors and staff are committed to:
Providing students with experiential and interactive learning opportunities that build knowledge, understanding, and transferable skills.
Integrating theory and practice through classes and assignments that focus on applying learning to real-life situations. For example, besides research papers, students also learn to create policy briefs, briefing notes, oral presentations, and op-ed pieces.
Connecting students to practitioners in public life through field trips, guest speakers, and internship opportunities.
Teaching from a thoughtful, faith-based perspective that also respects the diversity found among our students and in broader society.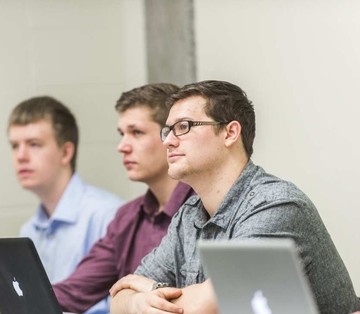 PHE from a Christian perspective
The PHE program explores today's globalized and often complicated world through classroom studies, discussions, and hands-on experiences. Professors will challenge students to articulate the underlying dilemmas, questions, and problems in contemporary public life, and to explore how a biblically-informed vision of life can open up alternative ways of thinking about these issues. King's wants to develop leaders who don't park their faith as they enter the public realm. We encourage our grads to "to act justly, to love mercy, and to walk humbly with God" (Micah 6:8).