Why PHE at King's?
King's offers a four-year Bachelor of Arts in Politics-History-Economics (PHE) as well as related concentrations in the ENVS Economics and Politics stream, three and four-year Bachelor of Arts in History programs, and minors in all three disciplines. 
The PHE major is an especially interdisciplinary program unique to The King's University and is well regarded nationally. The program prepares students for faithful service in the public sphere. PHE cultivates a creative approach to tackling political and societal issues and gives students opportunities to think outside the box when it comes to political theories and policy formation.
Quite simply, life in the public sphere requires an integrated knowledge of all three disciplines. The result is a program that helps you comprehensively understand and create change in local, national, and international policies and political systems. At the same time, it engages in the theory and underlying assumptions that lie at the root of every political system.

In addition to a better understanding of contemporary public life, PHE equips students to live out their faith in service of their neighbours. It is also excellent pre-professional preparation for further studies in law, education, or graduate studies.


"The program's flexibility and the courses allowed me to focus on development issues in Sub-Saharan Africa, which definitely came in handy when what I learned in class and in books came to life during a six-month CIDA internship in The Gambia.

The PHE degree and its broad interdisciplinary nature was a springboard into further work and education opportunities that will be invaluable for work on the international stage. The PHE course-work, faculty, and broader King's environment taught me about the intrinsic call to social justice within the Christian life and challenged me to work for Shalom in our economic and political systems in this often broken world."

Lisa DeMoor, Graduate
King's PHE professors and staff are committed to:
Applying economic ideas to real-life issues with interactive and hands-on learning methods.
Preparing students to affect change in local, national, and international systems as they live out their faith.
Equipping students to critically understand modern politics and political science in light of the Bible's creational and redemptive call to pursue justice, equity, stewardship, and peace.
Providing a clear Christian perspective on the development of western civilization.
Broadening students' understanding of the economy and the role they play in it.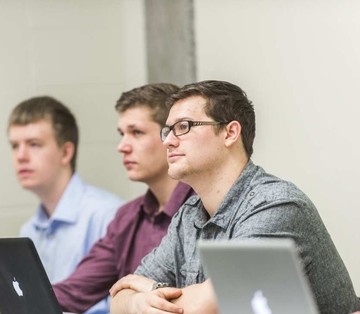 PHE from a Christian perspective
The PHE program explores today's complicated and globalized world through classroom studies, discussions, and hands-on experiences. Your professors will challenge you to articulate the underlying dilemmas, questions, and problems in contemporary public life, and to explore how a biblically-informed vision of life can open up alternative ways of thinking about these issues. King's wants to develop leaders who don't park their faith as they enter the public realm. We encourage our grads to "to act justly, to love mercy, and to walk humbly with God." (Micah 6:8).