Off Campus Opportunities
While an internship is not required in the PHE program, PHE students are encouraged and assisted to participate in an internship during their studies. In some internships, students earn credits that count towards their PHE degree; in others, they gain work experience and networking opportunities.
Many PHE students participate in the Laurentian Leadership Centre's (LLC) internship program in Ottawa through Trinity Western University. Students earn university credits by participating in interdisciplinary courses and gain work experience by interning with a Member of Parliament, government body, business, or non-government organization. Several of our alumni have secured full-time jobs after graduation as a result of their participation in the LLC.
Other opportunities available through the Council for Christian Colleges & Universities include the American Studies Program, Oxford Summer Program, Latin America Studies Program, and Middle East Studies Program. The government of Alberta provides funding for internships with The Washington Centre in Washington, DC. Students may also be interested in summer courses offered by the Canadian School of Peacebuilding, Canadian Mennonite University. In addition, many PHE students participate in summer internships with local organizations and various government agencies.
PHE faculty help students who want to find internships by distributing information about opportunities, facilitating networking with alumni, and providing advice and reference letters.
King's also offers off-campus History courses from time to time. Other off-campus courses available to PHE majors include a field course in International Development in Honduras (SSCI 300), a field course in Transformational Development in East Africa (SSCI 301), and two for-credit internship courses (SSCI 302 and 303).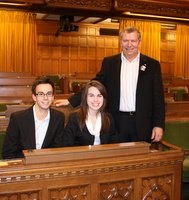 What students say about PHE Internships
Mychele Freund, Grad 2011
I was introduced to people from Ambassadors, to lobbyists, to Government Ministers, to top bureaucrats, and they willingly provided me with insights into their worlds, expanding my view of the world we live in. The Laurentian Leadership Centre brought Christ and culture together in a way that will impact my life forever. (For more of Mychele's story, click here.)
Conrad Tiedeman, Grad 2012
The Conservative Internship Program is not your average summer job! The Program's paid summer internship offers students a chance to receive educational, political, and parliamentary experience, and participate in an exclusive guest lecture series. This summer was unique, not only because the party was coming off the successful May 2nd election, but also because the CPC Convention was in Ottawa. I was the first intern to hail from the Northern Territories. The Internship gave me an unique view of the Party and of the Government. I was 'stationed' at the Conservative Resource Group, Research Division.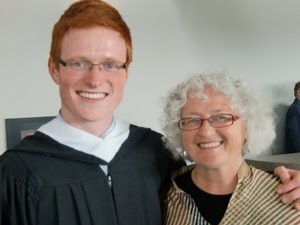 Geoff Brouwer, Grad 2011
I spent time on Parliament Hill in Ottawa with the Laurentian Leadership Centre. This proved to be an incredible learning opportunity. I was placed with the NDP critic on the environment, an MP from Edmonton, which granted me a variety of hands-on learning and work experience related to environmental law, party politics, and various research projects. The work has not only been exciting, but has also broadened and deepened my knowledge of important topics here in Canada and abroad--all the while earning credit towards my degree at King's. (For more of Geoff's story, click here.)