Back to Blog
Queen Elizabeth II's Platinum Jubilee medal presented to President Humphreys for outstanding service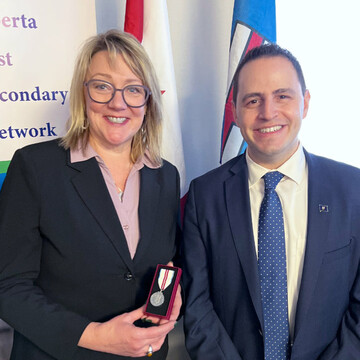 President Melanie Humphreys was presented with a Jubilee medal earlier this month for her diligent and tenacious service in the field of post-secondary education.
The Queen's Platinum Jubilee Medal was awarded to 7,000 Albertans noted as making significant contributions to the province. Humphreys was nominated by the Ministry of Advanced Education who wrote that she demonstrated exceptional qualities and outstanding service to the province in the field of adult education.
"The nomination was a surprise to me, and I was delighted to receive it," says Humphreys. "I work hard to represent King's within government to extend King's mission and broadly represent Christian education."
The well-deserved award comes after years of leading King's as president and serving as vice-chair of the Alberta Post-Secondary Network Executive Committee (APSN), which informs on policies for Alberta's universities to create better education for students.
At 10 years of leadership, Humphreys is one of the longest-serving presidents of Alberta's 26 publicly funded post-secondary institutions. Her impact extends through varying levels of government—liaising at municipal, provincial, and federal levels.
"Dr. Humphreys is very effective at government relations, both in her role promoting King's and in her leadership roles in coalitions of public and independent universities in Alberta and Ottawa," says Harry Kits, former Board of Governors chair. "She is relational, positive, and always seeking real solutions while pressing hard on key issues to make government's support and regulations better for higher education to deliver on its mission."
Reflecting on what has been most memorable in her work so far, Humphreys says that she is thrilled to see students have opportunities for personal and academic growth, and thrive after graduation in their careers, service, and communities. King's Statement on Inclusion is another distinct highlight.  
"Navigating the Statement on Inclusion, and the Board of Governors' unanimous approval of the statement, was an amazing moment," says Humphreys. "It was one in which we addressed our institution's past, our present, as well as our future."
The King's University celebrated three other members honoured with a Jubilee medal. Jenny McAlister, vice-chair of King's Board of Governors; Dr. Joachim Segger, professor music, emeritus; and Jerry Bouma, King's Board of Governors, governor emeritus, were each awarded a medal for outstanding contributions.