Living On Campus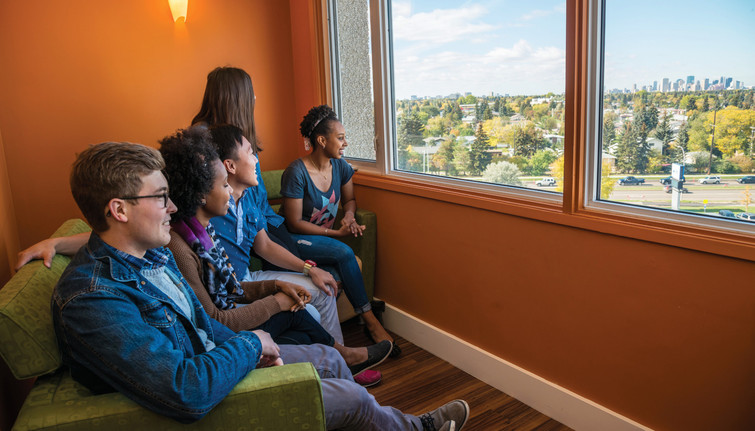 If you're considering a move to Edmonton to attend King's, or looking to move out for the first time, King's residence is a great place to live. Not only does King's residence boast of some amazing amenities - like large spacious dorm rooms, and great themed common spaces - it's also a perfect place to meet new people.
There's always something going on in Residence and our Student Life team is excited to support you however we can. We're passionate about creating an environment where you belong, know you're safe, and feel supported. Whether you're a student with a strong independent streak, or someone looking for a little more structure and support as you move out on your own, living in residence will plug you into one of the most special communities in the city!
Amenities
Living in residence means King's campus is your home! There are many great lounges on campus that stay open late into the evening. The WorkOut centre is open late until the evening each and every day, and your proximity to classes, the library, and other campus services can't be beat.
In addition, each of King's three residence options contain great common spaces. Be sure to explore our Tower Residence, Tower Suites, and Apartments residence options to learn more.


Events and activities
Regular events
Residence Assistants (RAs) host events every night of the week, that way there's always something going on to get involved with.
Larger events
Each semester we'll plan a number of larger group events or activities that bring the whole residence community together. Rez Rumble is one example. It's a tradition on campus where Tower and Apartment floors compete to win various contests and games for prizes!
The informal res experience
The best experiences you'll have are the memories you make with your friends!
Play ultimate frisbee, soccer, or football in the field
Explore Edmonton's restaurants, pubs, arts scene, and natural destinations. Visit King's Guide to Edmonton to learn more.
Book 6:01 to cook Thanksgiving dinner for those who stay in residence over the holidays, bake cookies, play board games, or lounge by the fire.
Pack into 5:01 or the Apartment Lounge to watch the big game, start a movie marathon, or binge watch a TV show.
Students' Association events and activities
The Students' Association plans programs and events all throughout the year for everyone on campus.
Join or start a campus club. It's a great way to receive funding for doing what you love!
Learn more about the King's Students' Association, their past events, and clubs by visiting their website. Don't see a club you were hoping to find? Talk to the SA about starting one.


Student Leaders
Everyone needs someone to talk to, or a point in the right direction at some point and student leaders are equipped to help you out when and if you need. (They're also just awesome people to make friends with.)
Residence Assistants (RAs) are student leaders who live on each floor of the tower and the apartments. They're trained to support residents at King's and it's their job to organize events, help with relationship disputes, and ensure everything runs smoothly on each floor.
Ministry Assistants (MAs) are student leaders whose encourage spiritual growth on campus. They lead small groups, bible studies, service projects, and help plan regular campus worship. If you have questions about faith or are looking to get more involved in Campus Ministries, talk to an MA.


King's Staff and Supports
A full list of Residence and Student Life Staff can be found here.