Discerning Your Career and Calling
Framework for Discerning Your Career and Calling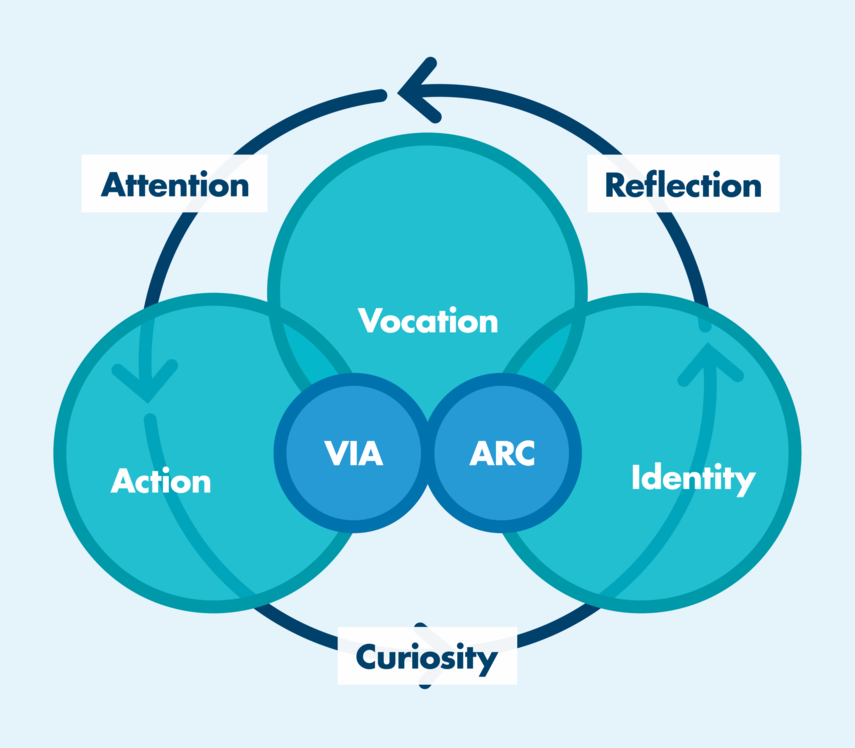 Questions of vocation (callings) and figuring out who you are can be complex and knowing where to begin can be overwhelming. The Centre for Career and Calling has developed a guiding framework that works as a map with various starting points to help you navigate this journey.
Understanding the Career and Calling Framework
VIA is a Latin word meaning "by way of" or in short, "way." The Centre for Career and Calling uses VIA -Vocation, Identity, Action- as an acronym to guide you through career planning and vocational discernment. You can jump in at any point, and since understanding your calling is a life-long process, you will find yourself engaging the VIA framework time and time again.
Vocation - The word vocation has its roots in the Latin word vocare, which means "to call." Calling encompasses all dimensions of our lives including what we are called to be and do. Your experience at King's shapes and equips you for a life of service beyond our walls. The Centre for Career and Calling can help you reflect on your university experiences and accompany you on a journey of vocational understanding.
Identity - Identities are a complex mix of our backgrounds, skills, interests, and values. Self-awareness is a key component of how we identify career and calling pathways. By developing self-awareness, you will be better equipped to make discerning choices that lead to a purposeful life. The Centre for Career and Calling provides services, programming, and tools to help you understand how you are wired.
Action - Making decisions about our life pathways - including our careers - requires exploration, experimentation, and reflection. Whether it's knowledge and skills gained through an internship or work experience, or exploring what you can do with a specific major, the Centre for Career and Calling is on hand to facilitate your action-planning.
The word "ARC" has a number of connotations. These include the trajectory of a story, movement, and momentum. Career planning requires the key practices of paying attention, reflecting on your experiences, and being curious.
Attention - Paying attention is the map that helps us navigate the twists and turns of roads before us. What do you notice? What themes emerge? What are the obstacles? Paying attention gives you clues to your life callings.
Reflection - The practice of reflection is like pausing along the way. Unless we take the time to slow down, we will not be able to make meaning of our experiences, apply our knowledge, or figure out our next steps.
Curiosity - Is the compass that orients our discernment journeys. Asking questions of others and of yourself cultivates a posture of continual learning and can lead you to try new things.